Hammond Says It Would Be 'Madness' for U.K. to Reject Close EU Ties
By
Warns that a sharp break with EU could hurt jobs and growth

Urges Conservatives to stop 'navel-gazing' and govern Britain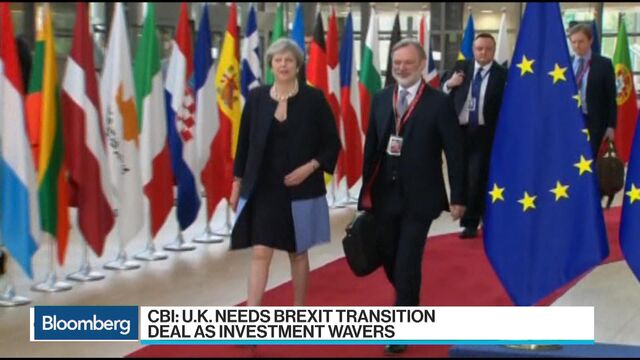 Chancellor of the Exchequer Philip Hammond said it would be "madness" for the U.K. to reject the closest possible ties to the European Union, warning fellow ministers that voters won't forgive them if Brexit damages the economy.
Hammond welcomed the intervention of business leaders who have called for a transition period as the U.K. departs the EU's single market, saying it was "helpful." Speaking to reporters at the Group of 20 summit in Hamburg, he laughed at the idea that Brexit might be undone, saying Britain has never been comfortable in a political union with Europe.
But Prime Minister Theresa May's government has to deliver a Brexit that "looks sensible" to people who voted to stay in the bloc, he said. It should seek "a Brexit that is focused on protecting jobs, business, prosperity, trade, a Brexit that recovers sovereignty for the U.K."
It must also recognize that "the EU will remain our largest trading partner and our nearest neighbors, and that it would be madness not to seek to have the closest possible arrangement with them going forward," he said.
May's unexpectedly poor performance in last month's election has opened the way for business and ministers to challenge her vision of Brexit. Hammond has led the charge in arguing that the government must focus on economic stability rather than control over immigration. 
'Frictionless' Ties
His intervention came the day after the EU's chief negotiator, Michel Barnier, warned that a "frictionless" trade relationship after Brexit wasn't feasible.
Hammond said it wasn't "legally or politically possible to stay in the customs union and in the single market." But he said he wanted a "transition phase" which "replicates as much as possible of the existing arrangements, so that the shock to business is minimized for the transition period."
He was skeptical about the idea, promoted by some Tories, that free trade deals with non-EU countries could compensate for lost trade with the EU if Brexit is poorly handled.
"Much of our trade with the world is service trade, where free trade agreements won't make any particular difference," he said. Even in goods, it would take time to grow new markets.
"The thing that I remind my colleagues is that if we lose access to our European markets, that will be an instant effect, overnight," he said. "People who are looking to us to protect jobs, economic growth, living standards, they won't thank us if we deliver them an instant hit with only a longer term slowly building benefit to compensate."
Dovish Voice
Hammond also challenged some of the anti-EU rhetoric of his Conservative Party colleagues, saying he thinks the U.K.'s relationship with the EU should be like the one with the U.S.
"We're not in a political union with them, but yet we have the closest possible partnership and collaboration," he said. "I hope that in the future we will have a similarly easy and comfortable close relationship with our EU neighbors."
The difficulties in securing such a relationship are shown in the way May's Brexit Secretary, David Davis, pleaded with her to make an unconditional promise to guarantee the rights of EU citizens living in the U.K. He repeatedly told her that the uncertainty was souring his meetings with other EU countries, according to two people familiar with the matter.
Asked if May can survive in her job, Hammond said she can. "The government has been elected, it's formed an administration, and now we should stop navel-gazing and get on with the job in hand," he said.
"In doing so we will rebuild our reputation with our public. Because we are a party above all else that manages, that delivers," he said. "It may not be the most passionate message, but it's a very important message for people that they have a party in government that is capable, that is competent, that will get on with the job in hand and will deliver. Doing is better than saying."
Before it's here, it's on the Bloomberg Terminal.
LEARN MORE