G-20 Runs Into Turbulence as Trump Stokes Divisions on Trade
By , , and
German chancellor says won't paper over divisions at summit

Putin and Trump hold first bilateral meeting in Hamburg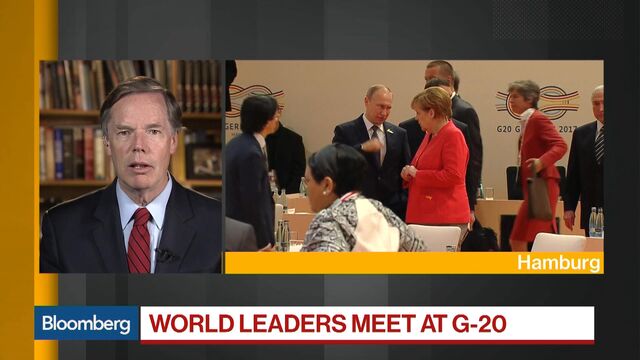 Divisions between world leaders over the direction of global economic policy were blown open again on Friday as a Group of 20 summit quickly ran into headwinds over free trade.
Government officials in Hamburg are struggling to agree on a final statement that would bridge differences between the U.S. and most of the other G-20 countries on trade, German Chancellor Angela Merkel told reporters. Work on language acceptable to all on climate was abandoned by the sherpas and left to leaders to hash out. On both issues, officials pointed the finger at U.S. recalcitrance.
"The sherpas still have a big chunk of work ahead on the statement on trade," Merkel told reporters after chairing the first session. "These discussions are very difficult -- I don't want to beat around the bush."
Merkel is trying to find common ground at one of the most highly-anticipated summits in years as leaders struggle to adjust to the era of Donald Trump and America First. The last major summit of G-7 leaders in May ended with the U.S. isolated on climate trade, and Chinese President Xi Jinping kicked off this meeting with a coded criticism of how certain "developed nations" have "significantly backtracked" on issues such as trade and climate change.
Blaring Sirens
Talks ran aground as helicopter buzzed over the port city and police sirens blared amid sometimes violent protests from anti-globalization activists and anarchist groups. The negotiations stumbled even after Merkel said most G-20 leaders are committed to trade that's "free" but also "fair trade," a semantic concession to Trump's complaint that global commerce is biased against the U.S.
Italian Prime Minister Paolo Gentiloni, who hosted the G-7 in Sicily, said that discussion on bolstering growth without "defensive stands on protectionism" remained open. The issue of climate change is "naturally linked" to trade, with an "overwhelming majority" of G-20 countries supporting Paris accord, he said.
"We have to decide, either we go for free and fair trade, or each nation protects its own garden," he told reporters.
Even President Vladimir Putin, who met with Trump for the first time today, pushed the U.S. leader on trade, according to Russia's economy minister.
"Nineteen countries were speaking about free trade and one country was highlighting that this country -- United States -- needs reciprocal approach to the trade," Maxim Oreshkin said in an interview in English with Bloomberg Television. "So that was kind of dissonance between the position of United States and position of all other countries."

— With assistance by John Fraher, Arne Delfs, Tony Czuczka, Patrick Donahue, John Follain, Gregory Viscusi, Robert Hutton, Margaret Talev, Toluse Olorunnipa, and Peter Martin
Before it's here, it's on the Bloomberg Terminal.
LEARN MORE