business
France Pledges Payroll Tax Cuts in Bid to Lure Bankers
By
Prime Minister Philippe proposes three new initiatives

'Each trader coming to settle in Paris will help' create jobs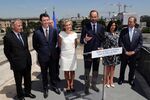 French Prime Minister Edouard Philippe used a rooftop presentation with a sweeping view over Paris to announce new tax initiatives benefiting bankers and traders as the race to win Brexit jobs heats up.
France will suppress the highest bracket of a payroll tax paid by banks and other financial companies and scrap a levy on intraday trading, Philippe said Friday in news conference atop the centuries-old Paris mint. His government also proposes to exclude bonuses from the calculation of severance pay for traders who are laid off, he said.
"Promoting the financial attractiveness of Paris means promoting France's economic development," Philippe said. "Each financier, each banker, each trader coming to settle in Paris will help create other jobs."
Paris is competing with cities include Frankfurt, Amsterdam, Madrid and Dublin for jobs that may shift to continental Europe as Britain prepares to leave the European Union. London has flourished as a hub for global finance in part because firms based in the capital have the right to do business across the 28-nation EU. When the U.K. quits the bloc, British banks as well as London-based firms from the U.S., Japan and other non-EU countries stand to lose this "passport" and may need to channel their business through units based in the bloc.
"This is a very important day for Paris as a financial center," Marie-Anne Barbat-Layani, the head of the French Banking Federation, said in an e-mailed statement. The government's announcements are "strong signals" for foreign banks looking to pick France for business, the lobby group said. So far, HSBC Holdings Plc is the only big international bank that has overtly showed a preference for Paris.
Deutsche Bank AG is preparing to move large parts of the trading and investment-banking assets it currently books in London to its hometown of Frankfurt in response to Brexit, people familiar with the matter say. Standard Chartered Plc and Nomura Holdings Inc. are among other firms that have picked the city as their EU hub in recent weeks. Citigroup Inc., Goldman Sachs Group Inc. and Morgan Stanley are weighing a similar move.
Emmanuel Macron, 39, became France's president in May, defeating the anti-euro, anti-immigration Marine Le Pen, on a pro-business reform platform. Philippe repeated the government's plans to cut France's corporate tax rate "by steps" to 25 percent by 2022 from 33 percent, trim the wealth tax by 2019 at the latest and create a 30 percent flat rate on capital revenues.
(
Upgrades translation in second paragraph.
)
Before it's here, it's on the Bloomberg Terminal.
LEARN MORE