business
ECB Is Said to Wonder If ABS Program Worthwhile as QE Talks Loom
By and
Officials may consider dropping ABS purchases as part of taper

Main objection to axing program is policy signal it would send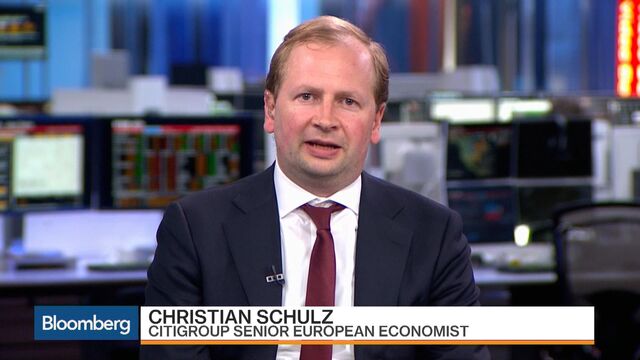 European Central Bank policy makers might be open to terminating the institution's purchases of asset-backed securities when they set the course for stimulus in 2018, according to three euro-area officials familiar with the matter.
Governing Council members generally agree that the program hasn't revived the ABS market, which was one of its key aims, the officials said, citing informal discussions. They asked not to be named because the matter is confidential. With the holdings also contributing very little to quantitative easing, and requiring a disproportionate amount of time for scrutiny, the strategy is seen as largely redundant, the people said.
Any decision would likely be taken in the context of a broader debate about unwinding stimulus, according to the officials. ABS purchases might not be axed right away because the ECB is concerned about unsettling investors already wary of any signal that suggests a tightening of monetary policy, two of the people said. An ECB spokesman declined to comment.
Since the ECB started buying ABS in November 2014, it has accumulated 24.1 billion euros ($27.5 billion) of the securities, or just 1.2 percent of total holdings to date under quantitative easing, and holdings have virtually stalled this year. Buying of covered bonds, which started just before the ABS plan, has reached almost 223 billion euros. The ECB also has 96.6 billion euros of corporate bonds and 1.6 trillion euros of public-sector debt.
 
Europe's ABS market has contracted by 31 percent in the past three years to 341 billion euros, partly because regulators have clamped down on the securities. Executive Board member Yves Mersch said on Tuesday that the central bank will need a "compositional discussion" on asset purchases. 
Banker Hopes
"It is no secret that the revival of the European ABS market is, broadly speaking, still anemic," he said. The central bank will "in the not too distant future have to review the specific role of ABS in the context of the broader issue of QE beyond 2017."
Investors are paying close attention to every nugget of information about the future path of monetary policy. ECB President Mario Draghi sent the euro and bond yields soaring last week when he said that reflationary pressures in the euro-area economy may create room to pull back on stimulus without tightening financial conditions.
While phasing out government-bond purchases may prove to be a delicate affair, structured credit arrangers, issuers and buyers signaled at an industry conference last month that they won't be upset about the ECB retreating from the ABS market. Analysts from JPMorgan Chase & Co. and Citigroup Inc. said they hoped the central bank would stop buying at end of the year.
— With assistance by Tom Beardsworth
Before it's here, it's on the Bloomberg Terminal.
LEARN MORE