politics
Davis Pushed May to Guarantee EU Citizens Rights
By
Brexit secretary wanted to make unilateral pledge: officials

Citizens' rights first key test for Brexit negotiations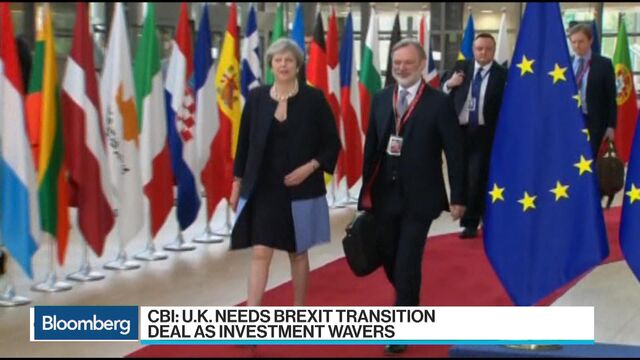 U.K. Prime Minister Theresa May rejected pleas from her own Brexit secretary to make an unconditional promise to guarantee the rights of European Union citizens living in the U.K. when the country leaves the bloc, according to two people familiar with the matter.
In a sign that May's own team is uneasy about her hard-line approach to Brexit, David Davis, the minister responsible for negotiating the split, warned her repeatedly that the uncertain fate of 3.2 million EU nationals in the U.K. was souring his meetings with other member states, the people said, speaking on condition of anonymity.
And on Friday on the sidelines of a Group of 20 meetings, Chancellor of the Exchequer Philip Hammond warned that it would be "madness" not to seek "the closest possible arrangement" with the EU as it will continue to be Britain's biggest trading partner.
"The thing that I remind my colleagues is that if we lose access to our European markets, that will be an instant effect, overnight," he told reporters at the G20 in Hamburg, Germany. "People who are looking to us to protect jobs, economic growth, living standards, they won't thank us if we deliver them an instant hit with only a longer term slowly building benefit to compensate."
Davis wanted May to guarantee Europeans' residency and work rights, even without receiving a reciprocal promise for British expatriates living in the EU. He feared the negotiations could break down over May's unwillingness to make such an offer.
Brexit Concerns
Despite the concerns, said to have been shared by other ministers, May insisted Britain's offer will depend on the EU promising the same assurances to protect U.K. citizens, the people said.
"EU citizens in the U.K. are incredibly valued members of our communities and society. And we want them to continue to live their lives as they do now, which is why we set out our proposal to guarantee their rights, with a new settled status," the Brexit department said in an emailed statement. "We are confident that we can reach a reciprocal agreement for EU citizens in Britain and U.K. nationals in the EU early in the process."

The division emerged at a highly sensitive time in the negotiations, with both sides deadlocked in public over how to protect the rights of their expatriates. The emergence of a private split between May and her most senior Brexit official could undermine their ability to hold a tough line with the EU's chief negotiator Michel Barnier on this and other issues. 
May finally made her offer on EU nationals' rights last month, in a 20-page document detailing her plan to safeguard the entitlements of Europeans living in Britain. Crucially, her proposal is conditional on the EU making a matching promise to British nationals living on the continent, and Barnier said the plan fell short of what he is seeking.
Settling the emotive question of citizens' rights is regarded by both sides as the most urgent priority for talks -- and a quick deal would help build trust and smooth the way toward discussing a long-term trade deal. 
Court Battle
With the stakes so high, progress is stumbling over the EU's demand that the European Court of Justice must retain its power to enforce the rights of EU nationals living in Britain even after Brexit. May said only British courts will be able to rule on enforcing the rights of EU nationals living in the U.K.
The European Commission has also warned that May's plans lack clarity and contain no promise of life-long protection against future changes in British laws.
Barnier said on Thursday that the EU and the U.K. would need to foster a "climate of trust" to avoid Britain crashing out of the bloc with no deal when the deadline for talks expires in March 2019. 
It was reported in June that May blocked a unilateral offer to EU citizens in the days after the 2016 Brexit vote, while David Cameron was serving out his final weeks as prime minister and she was still home secretary.
The London's Evening Standard newspaper, which is edited by Cameron's friend and former Chancellor of the Exchequer George Osborne, reported that May was the only cabinet minister who refused to endorse a plan to promise EU nationals they wouldn't be forced to leave Britain.
Talks Ruined
According to one of the people familiar with the internal discussions since then, Davis was among the ministers who pushed her to change her mind in the months after she became prime minister.
He told her repeatedly that every meeting he had with officials from other EU countries was being ruined by the question of how Britain will treat European citizens in future. EU governments were particularly unhappy that Britain was demanding their citizens fill in an 85-page application form in order to continue living in the U.K. It has since revised that approach.
May's allies complained that one or two EU countries held up progress on citizens' rights because they didn't want to start negotiating Brexit before the U.K. had formally triggered the legal mechanism for leaving the bloc under Article 50 of the Lisbon Treaty. 
In January, David Jones, who was Davis's deputy at the time, told lawmakers that the government was considering making a unilateral pledge to allow EU nationals to stay in the U.K. without a reciprocal promise from Brussels. Jones left the government when May overhauled her team after last month's election.
— With assistance by Robert Hutton
(
Adds Hammond in third and fourth paragraph.
)
Before it's here, it's on the Bloomberg Terminal.
LEARN MORE