The 'Last Domino' Just Fell for a Bank of Canada Rate Hike
By
June employment increase of 45,300 quadruples forecasts

Odds of rate hike at July 12 Bank of Canada meeting now 94%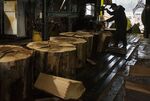 Canada added more than four times the number of jobs economists had expected in June, capping the best quarter since 2010 and solidifying the view the Bank of Canada will raise interest rates at its meeting next week.
The 45,300 gain was the seventh in a row, taking the jobless rate to 6.5 percent from 6.6 percent, Statistics Canada reported Friday from Ottawa. Economists surveyed by Bloomberg projected a 10,000 job increase, with the highest prediction at 21,400, and no change in the unemployment rate.
Faster employment growth adds to evidence of a broadening economic recovery. Bank of Canada Governor Stephen Poloz has touted the improvement in recent weeks and signaled it may be time to raise interest rates from extraordinarily low levels.
"Today's jobs numbers cement the case for the central bankers to raise rates in the coming week," said Avery Shenfeld, chief economist at Canadian Imperial Bank of Commerce in Toronto. "The jobs market is tightening, and not that far from what historically has been judged as full employment."
Investors pushed bets for the central bank's 0.5 percent rate to rise at the July 12 meeting even further after the job report, with trading in overnight swaps climbing to 94 percent from 86 percent on Thursday. The odds were about 5 percent a month ago, before Poloz and his deputies said that two rate cuts in 2015 have done the job reviving activity.
Canada's dollar strengthened 0.7 percent to C$1.2891 versus the U.S. dollar at 11:10 a.m. in Toronto, the strongest since September. Five-year federal government bond yields rose 2 basis points to 1.46 percent.

The report also showed some resolution to questions about lingering job market slack. Hours worked rose 1.4 percent from a year earlier, the fastest pace since 2015.
The Labor Department in Washington said Friday that payrolls climbed by 222,000 last month, while average hourly earnings growth of 2.5 percent trailed economist forecasts even with unemployment close to the lowest since 2001.
Statistics Canada said average hourly wages of permanent employees rose 1.0 percent in June from a year earlier, matching the pace for May. For all workers, wages rose 1.3 percent over that period. The pace of wage gains, a closely watched indicator of the health of the labor market, had slowed to a record low in April.
Too Good
The overall quality of the labor report is too good for Poloz to overlook, having already cited signals of a broadening recovery, economists said.
Employment rose by about 103,000 between April and June, or by 0.6 percent, the largest quarterly gain since 2010. The biggest increase in June was 27,000 new jobs in the professional scientific and technical services category.
There was also regional strength, from Quebec's unemployment rate holding at a record low of 6 percent, and Alberta's rate falling to 7.4 percent from 7.8 percent.
"The last domino just fell" for a rate increase, Doug Porter, chief economist at BMO Capital Markets in Toronto, wrote in a research note.
— With assistance by Erik Hertzberg
Before it's here, it's on the Bloomberg Terminal.
LEARN MORE