business
Bank-Disposal Chief Says Italy Aid Shows Failure-Rule Flaws
By and
Single Resolution Board's Koenig calls for alignment of rules

Koenig speaks in interview on lessons of Italian bank cases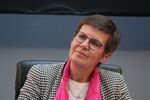 Bank failures in Italy and the drawn-out rescue of Banca Monte dei Paschi di Siena SpA revealed the frayed edges in Europe's patchwork of rules for dealing with firms in crisis, and fixes are needed to make the system work as intended, according to Elke Koenig, who makes the call on saving or shuttering major euro-area lenders.
"Let's try to look at the cases we had and see how to align the rules better," Koenig, who heads the Single Resolution Board in Brussels, said in an interview. "Let's see what kind of room to maneuver is warranted."
The taxpayer-funded wind-down of Banca Popolare di Vicenza SpA and Veneto Banca SpA highlighted the urgent need to standardize national insolvency laws, she said. Those cases, along with Italy's plan to pour 5.4 billion euros ($6.1 billion) into Monte Paschi, showed that EU state-aid rules need to be aligned with those for handling failed firms, she said.
On the bright side, the resolution of Spain's Banco Popular Espanol SA, which involved its sale to Banco Santander SA, was by the numbers, Koenig said. "We should be proud" of the cornerstone of the EU's efforts to tackle too-big-to-fail banks, she said. The Bank Recovery and Resolution Directive "is a good tool," though "that does not mean it cannot be improved."
EU governments provided almost 2 trillion euros in aid to prop up the financial industry from 2008 to 2014. BRRD, which came fully into effect in 2016, was intended to put an end to pricey public bailouts, but it contains an exception for a so-called precautionary recapitalization, whereby state aid can be given to a solvent bank. That's the route Italy chose to prop up Monte Paschi.
Insolvency Laws
"It might be unfortunate that the application of the BRRD started by chance applying the exception to the rule," Koenig said. "Having a tool like precautionary recap in the law makes perfect sense if it is used as intended, namely as temporary state support in cases of financial turmoil," she said. "All these cases should be looked at and then we need to consider whether we need to tighten the rules."
In the wind-down of the two Veneto banks, Koenig's SRB decided that resolution under BRRD wasn't warranted because of the firms' small size. That meant Italian authorities were free to dispose of the lenders under national insolvency law, using public funds and shielding senior bondholders from losses they would have faced under BRRD. The Italian government announced detailed plans for the liquidation only after the SRB made up its mind.
When the SRB was deliberating how to handle the two banks, "we compared the resolution outcome with the outcome under normal Italian insolvency law," Koenig said. "We couldn't compare it with measures put into place for those two banks over the weekend. The decision to implement these measures was taken after ours."
'Serious Disturbance'
Italy's plan for the banks relied on EU state-aid rules set out by the European Commission in the 2013 Banking Communication. This document sets out "temporary crisis rules" based on a provision in EU basic law that allows state aid to "remedy a serious disturbance in the economy of a member state."
While there are good reasons to have an option to use state funds in an insolvency, the Banking Communication, which is guidance provided by the commission, must be squared with EU law -- the BRRD.
"There might be cases where state aid in liquidation is justified," Koenig said. "What's complicated is if you have a resolution regime and then conclude that you treat investors in insolvency better than they would be treated in resolution." It's "obvious" that state-aid rules needs to be "aligned with the BRRD," she said.
That won't be happening any time soon, according to Margrethe Vestager, the EU commissioner in charge of competition policy. 
Credit Risk
"These are a set of rules that have been tested now, I think, in 18 member states," Vestager said on Thursday. "And they work. I think you need much more than a legal basis to question the substance. So for now, no concrete plans to change it."

Valdis Dombrovskis, the EU commissioner for financial-services policy, said that the state aid rules for banks could be revisited once firms have built up sufficient buffers of loss-absorbing debt. Until then, the whole bank-failure regime is still in a "transitional phase," he said in an interview.
A common problem for all three Italian banks was that nonprofessional investors had been sold loss-bearing debt instruments. Under state-aid rules, shareholders and junior creditors must share losses before public money can flow.
Koenig said that as long as proper warnings and advice are given, there's no reason to stop banks from selling such products to clients as long as the debt can be converted to shares or written down in a crisis to help cover the costs of collapse as foreseen in the law.
"There needs to be clarity that any bond is a credit instrument and has a credit risk to it," Koenig said. "There's nothing wrong that you invest part of your savings into bank bonds. When we talk to the banks that are a bit overloaded with retail investors we tell them that they need to also broaden their funding base."
— With assistance by Aoife White
(
Updates with Dombrovskis comment in 14th paragraph.
)
Before it's here, it's on the Bloomberg Terminal.
LEARN MORE