Balance of Power: Spoiling for a Brawl in Hamburg as G-20 Splits
By and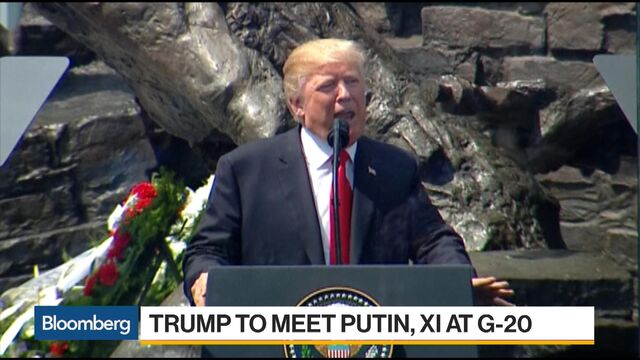 Most summits of global leaders are predictable, anodyne affairs. Not this year. Thanks mainly to President Donald Trump, this week's Group of 20 summit in Hamburg is the most keenly anticipated in years. 
The headline event is Trump's first formal meeting with Russian President Vladimir Putin. That's always a big moment for new White House occupants, but never more so than for Trump, who is facing an investigation into possible collusion between his election campaign and Russia.
Things are already off to an interesting start. Hamburgers awoke to find cars burning in parts of the city after police clashes with anti-globalization protestors yesterday. Before the summit even started Chinese President Xi Jinping criticized "major developed countries" who have "significantly backtracked" on trade and climate change. (Read: Trump and America First.)
Trump will get a chance to jab back when he meets with Xi tomorrow as tensions about how to handle North Korea bubble to the surface.
So spare a thought for German Chancellor Angela Merkel, who is chairing the talks. A banner outside the summit's conference center urges the leaders to "Obey the Rule of Law!'' She will have to hope that it doesn't all end in a geopolitical brawl.

Sign up to receive the Balance of Power newsletter in your inbox, and follow Bloomberg Politics on Twitter and Facebook for more.
Global Headlines
Another Russia hack? | As Trump prepared to meet Putin, current and former U.S. officials told Bloomberg News that hackers working for a foreign government recently breached at least a dozen U.S. power plants, including a nuclear facility in Kansas. The intruders could be positioning themselves to eventually disrupt the nation's power supply. The leading suspect is Russia — a particularly worrisome possibility because Russian hackers have previously taken down parts of the electrical grid in Ukraine. 
Divisions on North Korea | Russia allied with China on the UN Security Council to block calls from the U.S., France and the U.K. to condemn North Korea for its latest missile test. Moscow even questioned whether the projectile should be seen as an intercontinental ballistic missile. The wrangling reflects broader differences on how best to rein in Kim Jong Un, which are set to be on display when Xi and Trump meet.
China's awkward port call | Xi put on a show of China's growing naval strength when the country's first aircraft carrier pulled into Hong Kong harbor escorted by a full battle group today, 20 years after the former British colony returned to its rule. While the Liaoning will be open to 3,600 members of the public this weekend, bans on kids, cameras and the media show the limits of Beijing's soft power in Hong Kong. 

Cyprus divided | Away from the glare of the G-20, talks over a landmark deal to reunify Cyprus collapsed early today over Turkey's insistence on maintaining a military presence on the island. The UN-backed negotiations, which also involved Greece and the U.K., would have cleared one of several flashpoints in Turkey's difficult relationship with the EU, and paved the way for natural gas exports from the eastern Mediterranean. 
First dates with Moscow | For U.S. presidents, the first meeting with a Russian leader has been a key political test at least since John F. Kennedy's rocky debut with Nikita Khrushchev in 1961. As Trump and Putin meet in Hamburg, a photo essay by Gregory White looks at how those initial encounters have played out over the past few decades.
Trump's values | The U.S. president yesterday defined the West's values in terms of religion and culture for a cheering crowd in Warsaw. His argument for defending civilization against radical Islam might go down well in Roman Catholic Poland, but it will only deepen the breach with more liberal G-20 leaders such as Merkel, France's Emmanuel Macron and Canada's  Justin Trudeau. 
And finally... The Art of the Handshake has become one of the more unlikely talking points of the Trump era. Meetings with fellow world leaders are immediately followed by a debate on who came out best from the encounter. Merkel appeared to be an early loser after Trump avoided shaking her hand in the Oval Office during an awkward first meeting in March. Things went much better yesterday. Merkel extended her hand as the friendly host, Trump grasped it and the cameras whirred. They even seemed a little surprised at how easy it was. 

Before it's here, it's on the Bloomberg Terminal.
LEARN MORE