politics
U.S. Seeks North Korea Funds From Eight International Banks
By
Seizure warrants were approved by federal judge in May

Lenders handled $700 million linked to Pyongyang, U.S. says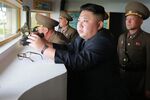 U.S. prosecutors disclosed an effort to seize millions of dollars linked to North Korean entities from eight global banks after tensions with Pyongyang escalated over the Fourth of July holiday.
There is no indication that the government believes that any of banks -- Bank of America Corp., Bank of New York Mellon Corp., Citigroup Inc., Deutsche Bank AG, HSBC Holdings Plc, JPMorgan Chase & Co., Standard Chartered Plc and Wells Fargo & Co. -- knowingly violated U.S. sanctions against North Korea.
The Justice Department's attempt to seize the funds, disclosed Thursday in court filings, comes after North Korea tested a long-range missile this week capable of reaching Alaska. The U.S. government's actions show a continuing determination to identify and shut down Pyongyang's points of access to the U.S. financial system.
According to the filings, the eight banks have processed more than $700 million in transactions since 2009 on behalf of entities linked to North Korea. Bank of America, JPMorgan and Wells Fargo declined to comment. Bank of New York Mellon, Citigroup, Deutsche Bank and Standard Chartered didn't provide a comment, and HSBC didn't respond to inquiries.
A spokesman for the U.S. attorney's office in the District of Columbia, where the warrants were filed, declined to comment.

Federal prosecutors received approval from a judge in May to file "damming" seizure warrants with the banks. The warrants ordered the banks, over a 14-day period, to allow incoming wire transfers to Dandong Zhicheng Metallic Material Co. and four related front companies for North Korea, but to not allow any wire transfers out. At the end of the two-week period, the warrants ordered the accounts frozen to allow for seizures.
The transactions under scrutiny involve correspondent accounts that are affiliated with global banks for the purpose of clearing transfers in U.S. dollars. It's common practice for blacklisted nations to set up front companies abroad in efforts to circumvent U.S. sanctions.
— With assistance by Laura J Keller
Before it's here, it's on the Bloomberg Terminal.
LEARN MORE