politics
Trump Cites Russian Election Meddling But Blames Others Too
By and
Says intelligence community's failings on Iraq raise doubts

Trump makes remarks ahead of meeting with Russia's Putin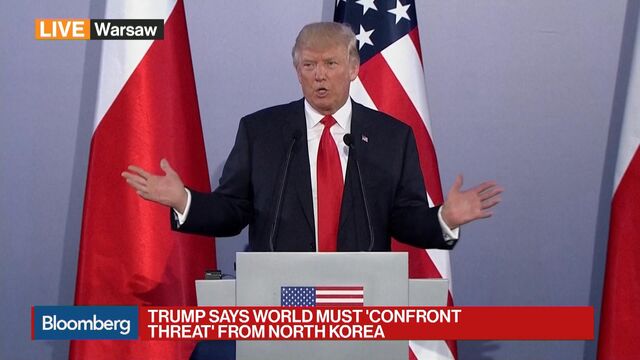 President Donald Trump said he believes Russia meddled in the 2016 election but maintained that the U.S. may never know for sure, likening the matter to intelligence that incorrectly said Iraq had weapons of mass destruction.
"I think it was Russia, but I think it was probably other people and/or countries," Trump told reporters on Thursday at a news conference with Polish President Andrzej Duda in Warsaw, a day ahead of his first in-person meeting as president with Russian President Vladimir Putin. "Nobody really knows. Nobody really knows for sure."
Trump's remarks -- and his attempt to cast blame for the hacks wider than the Russians -- made it seem unlikely he'll take a tough line on the issue when he meets with Putin. Trump didn't say whether he intends to raise the subject, and the White House has refused to comment.
In the news conference, Trump also said the real question was why former President Barack Obama didn't do anything to stop the meddling after he was informed about it last year.
"He did nothing. The reason is, he thought Hillary was going to win," Trump said, referring to his 2016 presidential opponent, Hillary Clinton. "And if he thought I was going to win, he would have done plenty about it."
Leading to a Mess
Trump also cast doubt on the conclusion of the U.S. intelligence community, saying that only three or four agencies found Russia culpable -- not 17, as has been widely reported. Trump said the intelligence officials have been wrong in the past.
"I remember when I was sitting back listening about Iraq -- weapons of mass destruction," Trump said. "How everybody was 100 percent sure that Iraq had weapons of mass destruction. Guess what? That led to one big mess. They were wrong and it led to a mess."
Several U.S. officials have said publicly that the Russian government ordered an influence campaign to help Trump during the 2016 election. The matter is being investigated by two congressional committees, the FBI and a special counsel.
Asked about Trump's statement that Russia could have been behind the hacking -- something Moscow has repeatedly denied -- Kremlin spokesman Dmitry Peskov said Trump had highlighted "equally the possibility that it could have been other countries. Please note the nuances."
Trump's bilateral meeting with Putin, expected to last about 30 minutes, may shape the tone for the next four years of U.S.-Russia relations. Issues between the nations include Russian sanctions, halting North Korea's nuclear weapons programs and managing frictions over Syria and Iran.
Both sides played down expectations, portraying the meeting mostly as a chance for the leaders to take the measure of each other. The goal of improved ties has met fierce resistance in Washington, as Trump faces investigations into possible collusion between his campaign officials and a Russian hacking campaign allegedly aimed at influencing last year's vote.
Trump's national security adviser, H.R. McMaster, said in a June 29 briefing the U.S. was approaching the meeting with "no specific agenda" while a Russian official said the leaders will focus on the conflicts in Syria and Ukraine, the fight against terrorism and Russian requests that the U.S. return diplomatic property Obama seized in retaliation for election meddling.
— With assistance by Ilya Arkhipov, and Henry Meyer
(
Updates with Kremlin comment in ninth paragraph.
)
Before it's here, it's on the Bloomberg Terminal.
LEARN MORE