Scalise Has Surgery for Infection After Condition Deteriorated
By
Top GOP lawmaker remains hospitalized after June 14 shooting

Washington hospital issues statement on Scalise condition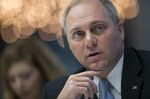 U.S. Representative Steve Scalise, who was wounded by a gunman's attack on Republican lawmakers as they held a baseball practice, had surgery Thursday to manage an infection, a day after being readmitted to the intensive care unit of a Washington hospital.
Scalise, the third-ranking U.S. House Republican, "tolerated the procedure well" and is listed in serious condition, according to a statement from MedStar Washington Hospital Center.
Scalise was among four people shot on June 14 by a gunman later identified as James Hodgkinson, 66, of Belleville, Illinois. The other victims continue to recover from their wounds.
Hospital officials have said Scalise, 51, would need multiple operations and many weeks to recover after a single bullet tore through his pelvis, fracturing bones, injuring organs and causing severe bleeding. Scalise had been transferred from the intensive care unit on June 22 and listed in fair condition.
As majority whip, Scalise is the chief vote counter in the Republican conference and has served in the House since winning a special election in May 2008. After the shooting, President Donald Trump visited his bedside and later said "he's a great fighter."
The FBI said Hodgkinson, who died after a shootout with police, had with him a piece of paper listing six lawmakers. He appears to have acted alone, the FBI said.
Before it's here, it's on the Bloomberg Terminal.
LEARN MORE