Millennials and Their iPhones Are Killing Your Old Power Company
By
'The conventional utility model is dying,' Innogy chief says

More than half of industry executives fear a 'death spiral'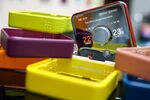 It won't be long, experts say, before the average Londoner will be able to program her day to start this way:
An iPhone app with a real-time weather feed sees it's overcast again, so it tells the diodes embedded in the bedroom walls to mimic sunrise. As the light brightens, the shower tap opens and the water reaches the desired warmth just as the first whiff of espresso wafts in from the kitchen down the hall.
The device is guiding not only how the power is being used, but also where and how it's being generated. Since it's gusty in Scotland, this morning's supply is coming from tethered drones that turn wind into electricity and send it down a patchwork of interconnected local grids that can operate outside the old network with the swipe of a finger. The forecast is for calm up north, so solar panels down south in Spain will pick up the slack in the afternoon.
The best part is the bill, which greater competition and efficiency has driven down to just 5 pounds a month, wired automatically to a Google Inc. unit that aggregates and distributes power based on algorithms that learn from inputs like targeted usage and tolerance for non-renewable sources. A Tesla Inc. battery tucked in a closet and fed by a photovoltaic module on the balcony kicks in when fully charged, providing self-sufficiency for days at a time.

Fully "smart" systems that optimize each stage of the process are evolving the world over, but nowhere are utilities embracing the transition more urgently than in Europe, where political leaders and regulators view man-made climate change as settled science. Beyond the environment, at stake is the fate of an industry that's rushing to shed an outdated business model and fend off deep-pocketed disrupters like Google and Amazon.com Inc., as well as upstarts anxious to capitalize on a new generation of ecologically conscientious consumer.

"The conventional utility model is dying," says Peter Terium, chief executive officer of Innogy SE, a unit of Essen, Germany-based RWE AG. "If you don't adapt now, it's hard to see how you're going to survive."
Thomas Edison
RWE is one of two major European utilities to separate its traditional, commodities-based business from its renewables or network businesses in the past 18 months. In both cases the more technology-focused company immediately became more valuable. Innogy's market value, about 19 billion euros ($21.6 billion), is almost double RWE's, while EON SE is worth almost triple its new Uniper unit, which represents the German utility's conventional coal, natural gas generation and commodities trading business.
In part it's a bet on the view that in the future, as the proliferation of renewables and technology makes it possible to produce power on a smaller, cleaner scale, the money won't be in big power plants anymore. The future of energy will look more like customer-focused data management, an area where tech companies already excel.
The trend was reflected in a global survey of industry executives that PriceWaterHouseCoopers LLP conducted two years ago, when more than half said they wouldn't rule out descending into a corporate "death spiral."
Though they've diversified into other areas, most integrated utilities still get a large part of their revenues by burning fossil fuels at massive power plants and selling the energy, iterations of Thomas Edison-built stations that first came online in the 19th century. But between now and 2040, 72 percent of the $10.2 trillion the world will spend to add capacity will go toward doubling renewables' share of the mix to about one-third, Bloomberg New Energy Finance estimates in an outlook published last week.
Driving the change are millennials, a generation of people who reached adulthood in the early 21st century and are demanding both cleaner energy and better ways to use it.
 

For EON, venture capitalism is a way forward. The company, which like RWE is based in Essen, was an early investor in Thermondo GmbH, a Berlin start-up that bills itself as hastening the switch to a newer, more decentralized energy system with lower carbon emissions. Thermondo, which started as an online boiler brokerage, has since expanded into solar, fuel cells and will offer home batteries in the future. It now has 150 workers and has served 6,000 customers.
As carbon-free generation increases and companies like Tesla Inc. and Daimler AG improve battery storage and efficiency, microgrids are starting to eat away at the old utility model. By 2040, half of Europe's electricity supply will come from variable renewables, BNEF estimates show. Decentralized energy, the kind that weakens demand for big power plants, will account for a third of the capacity in Germany by the same year, the outlook shows.
Technology is also winning government support. At one of Britain's latestpower auctions, a held to prevent electricity blackouts, a record 2.7 percent of new capacity was awarded to tech companies. What Boston-based EnerNOC Inc. and other winners offered was software that finds more efficient ways to turn off or delay extraneous power usage.
One millennial, 27-year-old Simon Phelan, quit his job at Jon Moulton's Better Capital PCC Ltd. in London to start his own version of Thermondo called Hometree Marketplace Ltd.

Declining Funding
Hometree, which raised 2.5 million pounds from Moulton and other investors, declined investment offers from five major European utilities, Phelan said, without naming them.
He has already convinced fellow millennial Ed Ward, who turned to Hometree out of frustration with his longtime provider, British Gas.
"BG was trying to give me a boiler that was too massive, as if I wanted to add a million stories to my house," Ward said. "Why would I need that?"
A spokeswoman for British gas, Bieneosa Ebite, said the company works with leading manufacturers "to offer choice to its customers" and only installs "energy-efficient boilers so customers use less energy and save money."
Voice Control
British Gas's parent company, Centrica Plc, has already sold at least 500,000 units of its Hive device, which controls heating and lighting either manually or by voice. Centrica says the Hive "learns" and can sometimes warn owners of a looming boiler breakdown. It said it could get 1 billion pounds ($1.3 billion) in sales from the connected home unit by 2022. Gross segment revenue for the division was 33 million pounds last year.
The device's success prompted Hometree's Phelan to poach Andreu Tobella, head of product for Hive, from Centrica last year.
Incumbents like EON and British Gas have several "institutional advantages" over tech giants and start-ups, most notably scores of engineers who can reliably solve customer problems like gas leaks an power outages, according to Elchin Mammadov, an analyst at Bloomberg Intelligence in London. 
But what Google, Amazon and the other tech companies that are moving into distribution -- and possibly even generation -- do have is climate awareness and cutting edge software, which may be two major selling points for millennials.
"Anything that's new, anything related to technology that they can try, they will," said Karla McCormick, an assistant professor who tracks consumer trends at Florida State University in Tallahassee. "And what a company stands for is huge. If they don't agree with what a company stands for, they won't trust it."
Before it's here, it's on the Bloomberg Terminal.
LEARN MORE