Top Iron Ore Shipper Warns Price to Go Sub-$50 as Supplies Swell
By
Australia forecasts average $49.10 a metric ton for next year

Port Hedland reports record cargoes for the month of June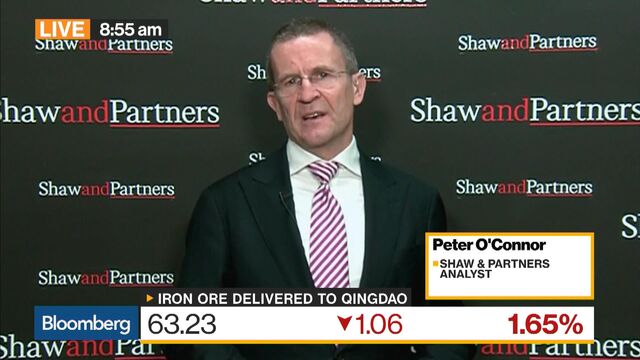 Iron ore will sink back below $50 a metric ton next year as global supply expands and demand moderates in China, according to Australia, the biggest exporter, which released its revised outlook just hours before the country's largest port reported record shipments for June.
The raw material will average $49.10 next year, 4.8 percent below a previous estimate, and hold near that level in 2019, the Department of Industry, Innovation and Science estimated in a regular quarterly report on Friday. Prices are seen at $62.40 this year, bolstered by demand from China's steel sector before easing over the next two years, according to the forecaster.
Iron ore surged into a bull market last month, paring this year's loss, amid signs of sustained demand from China, especially for higher grades. That's benefited producers including Rio Tinto Group and Vale SA. The department's projections add to warnings from Goldman Sachs Group Inc. and Citigroup Inc. that increasing supply from low-cost miners will probably hurt prices.

"The iron ore price is forecast to ultimately decline," the department said. "The seaborne iron ore market is forecast to remain well-supplied by low-cost producers in 2018 and 2019. Demand for iron ore is forecast to moderate over the same period, as steel production declines in China."
Price projections by the department refer to spot ore with 62 percent content free-on-board from Australia. The outlook for 2018 was cut from a March estimate of $51.60. Ore delivered to Qingdao was at $62.80 a dry ton on Friday, averaging about $74 this year, according to Metal Bulletin Ltd. It last traded below $50 in June 2016.
Record Cargoes
Shipments from Australia's Port Hedland, which handles production from miners including BHP Billiton Ltd. and Fortescue Metals Group Ltd., climbed to 43.1 million tons in June from 41.8 million a year earlier, according to the Pilbara Ports Authority. That's a record for the month, and brings exports in the first half an all-time high of 245 million tons, according to a tally by Bloomberg.
Nationwide exports from Australia may rise to 885 million tons in 2018 and 897 million in 2019, from 851 million this year, while Brazilian exports will expand 9.7 percent over the same period, the department estimates. The two countries are the top shippers, and earlier this week, Brazil reported its cargoes shipped in June were also a record for that month.
Click here for Bloomberg data on weekly shipments by country and port
Australia's earnings from ore exports will ease to A$54.7 billion ($41.6 billion) in 2018-19 from A$58.2 billion in 2017-18 and A$64.5 billion in 2016-17, the department said.
Before it's here, it's on the Bloomberg Terminal.
LEARN MORE