Goldman Economists See Drug Epidemic Taking Toll on U.S. Economy
By
Crisis reinforces doubts about rebound in participation rate

Goldman economists say drug deaths probably overstate impact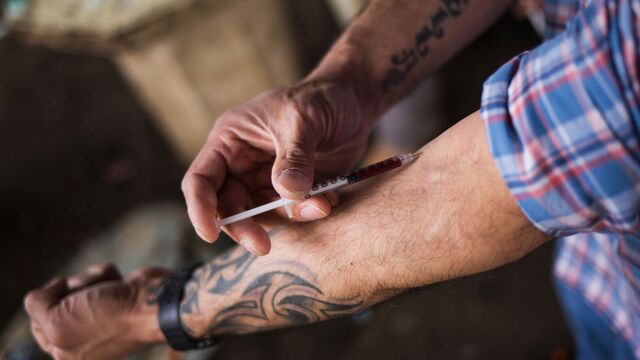 Goldman Sachs Group Inc. economists say America's opioid epidemic is probably sidelining people in their prime working years and contributing to the stubbornly low rate of men and women who are either employed or looking for jobs.
"Use of both legal prescription pain relievers and illegal drugs is part of the story of declining prime-age participation, especially for men," Goldman economists wrote in the study released Wednesday.
Prescription drug use has increased dramatically since the late 1990s, while widespread abuse of prescription painkillers has transitioned into illegal use of heroin and fentanyl in recent years as pills become expensive and hard to access. The crisis has pushed up drug deaths while limiting the number of people capable of getting and keeping a job.
Goldman says the epidemic reinforces their doubts about a rebound in America's lackluster labor participation rate. Analysts surveyed by Bloomberg estimate the rate will remain at 62.7 percent in June, unchanged from May and close to about a 38-year low reached in 2015. The Bureau of Labor Statistics publishes the June report Friday morning in Washington.

At the same time, the Goldman economists say it's unlikely that the drug epidemic has rendered working-age people sitting on the labor market's sidelines totally unemployable.
"We see little basis for writing off the remaining unemployed, whose rate of drug use has not risen nearly as much as one might think from the surge in drug deaths," economist David Mericle wrote in the note.
Mericle also says that the economic impact of the opioid epidemic extends beyond the labor market, noting that a recent estimate put the cost in terms of health care, criminal justice and productivity at $78.5 billion for 2013.
"The crisis has grown significantly since then, implying substantial costs to both employers and the public sector," according to the report.
Before it's here, it's on the Bloomberg Terminal.
LEARN MORE