China Tries New Tactic as It Braces for Trump Meeting: Flattery
Peter Martin
Xi and Trump to meet in Hamburg for first time since April

China and U.S. 'communicate every morning and every night'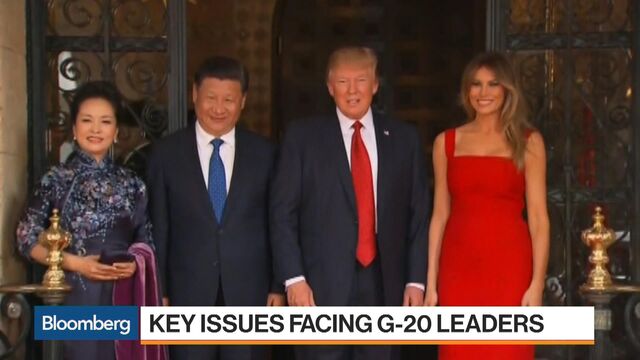 China is trying a new tactic ahead of a potentially difficult meeting with President Donald Trump: flattery.
With tensions re-emerging between both nations over North Korea, China's vice minister of finance was at pains to tell reporters that all is well.

"We read with respect Mr. Trump's books on the art of the deal and his political views," Zhu Guangyao said Thursday on the sidelines of the Group of 20 summit in Hamburg. "The two sides communicate every morning and every night, that's the level of intensity."
Xi Jinping and Trump are scheduled to meet for just the second time this week as the friendly relationship they established in April at Mar-a-Lago shows signs of fraying. Trump initially backed off campaign threats to declare China a currency manipulator following his shock election victory in November in exchange for China's help on North Korea.
But he has since shown signs of losing patience as Pyongyang fires missile test after missile test. "So much for China working with us - but we had to give it a try!" Trump said in a tweet Wednesday.
For the Chinese, dealing with Trump has been a steep learning curve. Trump was a largely unknown entity to them when he won the election. In the run up to his inauguration, officials quizzed foreign diplomats and journalists about the incoming president and even used their VPN software to trawl Trump's Twitter account for clues on his policies.

The tactic marks the latest step in China's charm campaign, which has included repeated overtures to the First Family. Bloomberg reported in June that China had invited Trump's daughter, Ivanka, and son-in-law, Jared Kushner, to visit Beijing later this year, a move which followed an extended dialogue between Kushner and China's U.S. ambassador, Cui Tiankai.
Chocolate Cake
Trump, of course, has also tried his hand at public flattery. Trump told Fox News in April that he and Xi bonded in Mar-a-Lago over "the most beautiful piece of chocolate cake that you've ever seen" as he told his Chinese counterpart that he had authorized a missile strike on Syria.
"He is a very good man, and I got to know him very well," he told Reuters in an interview. During the meetings, Trump's grandchildren performed a traditional Chinese song, "Jasmine Flower," and recited poetry for Xi and his wife, Peng Liyuan.
In appealing to Trump's ego, the Chinese are following a path trodden by other heads of government. In February, Japanese Prime Minister Shinzo Abe lamented that "my scores in golf is not up to the level of Donald," while British Prime Minister Theresa May hailed Trump's election victory as "stunning" during her January trip to the U.S.
Back in Hamburg, the Chinese were keen to stress that they don't want to isolate any G-20 member despite the fact that the U.S. is now sparring with most of its allies on everything from free trade to climate change.
"The policies produced by the G-20 should be a result of a consensus reached by all members, no one should be excluded," Zhu said when asked if China would sign a "G-19" agreement on climate change which excluded the U.S.
Ultimately, he wouldn't be drawn on whether the Xi-Trump meeting would go smoothly, diplomatically only saying that "we're really looking forward to it."
Before it's here, it's on the Bloomberg Terminal.
LEARN MORE