business
Opioid Prescriptions Ebb but Addiction, Overdoses Still Vex U.S.
By and
CDC says that too many patients take painkillers for too long

Endo pulls Opana ER after FDA tied opioid to disease outbreak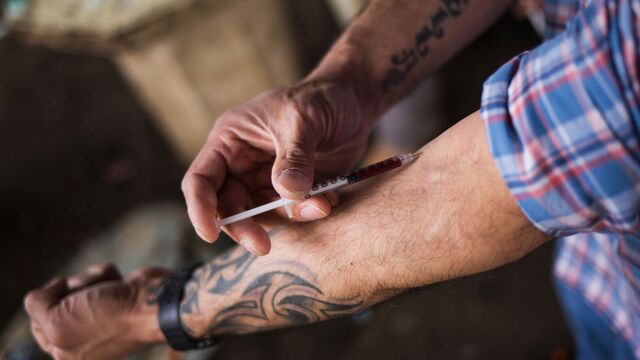 Opioids are prescribed less frequently than they were several years ago, but the drugs are still too easy to obtain and are taken by too many people for far too long, according to U.S. health officials.
The amount of opioid painkillers prescribed in the U.S. peaked in 2010 and declined each year through 2015, according to an analysis released by the Centers for Disease Control on Thursday. Despite that drop, opioids are prescribed about three times as much as they were in 1999, with use varying widely depending on geographic area, the agency said.
"With opioid medication, we're still seeing too many get too much for too long," said acting CDC Director Anne Schuchat on Thursday on a call with reporters.
Of the more than 50,000 drug-related deaths in the U.S. in 2015, close to two-thirds involved opioids, according to the CDC, and approximately half of opioid-related deaths involved a prescription painkiller. CDC researchers estimated that about two million people in the U.S. have an addiction disorder tied to prescription opioids.
Off the Shelves
The CDC's report came as Endo International Plc said that it plans to halt U.S. sales of its powerful opioid painkiller Opana ER, which had been designed to thwart abuse but wound up causing an outbreak of disease among people who injected it intravenously with shared needles.
In June, the U.S. Food and Drug Administration asked Endo to stop sales of the painkiller, the first time the agency has taken such a step for an opioid. While Opana ER was approved by the FDA for pain relief, it had become a favorite of people with opioid addiction. After Endo reformulated the drug to try and reduce its potential for abuse, many drug users went from crushing and snorting the pill to injecting it.
That led to "a serious outbreak of HIV and hepatitis C," the FDA said in a statement last month requesting that the product be withdrawn. An FDA spokesman declined to comment on Thursday.
Opana sales totaled $158.9 million in 2016, 4 percent of the company's revenue. The Dublin, Ireland-based company said in a statement it expects to incur a pretax impairment charge of approximately $20 million in the second quarter of 2017 related to the move. Shares were down 2.2 percent at $11.14 at 3:51 p.m. in New York.
Endo "has taken significant steps over the years to combat misuse and abuse" and its decision to remove Opana ER doesn't mean it is no longer safe or effective when taken as prescribed, the company said in its statement. The manufacturer said it plans to work with the FDA to minimize disruption in treatment for patients.
Top Priority
FDA Commissioner Scott Gottlieb said last month that the FDA believes it has the legal authority to look at not just opioid drugs' risks and benefits in legitimate patients, but also at the drugs' potential for illicit use. He has said the opioid crisis would be the agency's top priority, and he set up a steering committee to explore policies to reduce opioid use.
A broader push against opioid abuse is beginning to get traction in the U.S. More than 20 states, counties and cities have sued drug companies in the past year, claiming they fueled a public-health crisis with misleading marketing and aggressive distribution of opioids. And the Trump administration has its own panel, with Health and Human Services Secretary Tom Price in Tennessee on Thursday learning more about the crisis.
Economists at Goldman Sachs estimated in a note Thursday that the total cost of the opioid epidemic for the U.S. economy was $78.5 billion in 2013. The Great Recession likely worsened the drug crisis, but the growth in opioid deaths preceded the economic downturn connected to the 2008 housing bust, according to the report.
"State-level data suggest that while the recession worsened the opioid epidemic, longer-run economic trends and non-economic factors were probably more important," the Goldman economists wrote. "After all, the crisis predated the recession and has continued unabated as the unemployment rate has declined."
Before it's here, it's on the Bloomberg Terminal.
LEARN MORE