Corbyn to Talk Brexit With EU's Barnier, Sensing May Won't Last
By and
Labour leader to have 'extended meeting' with Barnier Thursday

He is "very ready' for another vote, anticipating May to fall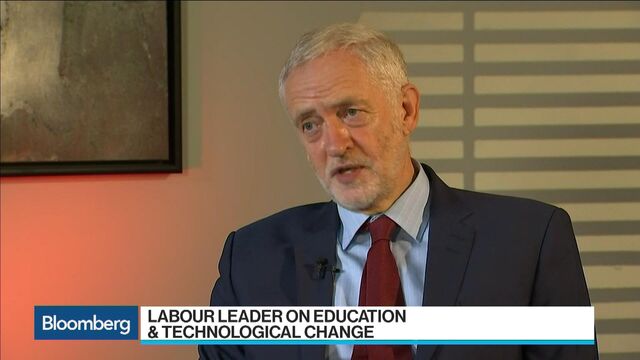 Follow @Brexit for all the latest news, and sign up to our daily Brexit Bulletin newsletter.
U.K. Labour Party leader Jeremy Corbyn will meet with the European Union's chief Brexit negotiator Michel Barnier next week as he stands ready for a snap election that could make him prime minister.
The "extended meeting" with Barnier on July 13 will give Corbyn the chance to "outline what our issues are," he said in an interview with Bloomberg Television in London on Thursday. An EU official confirmed the meeting and said it was Corbyn who requested it.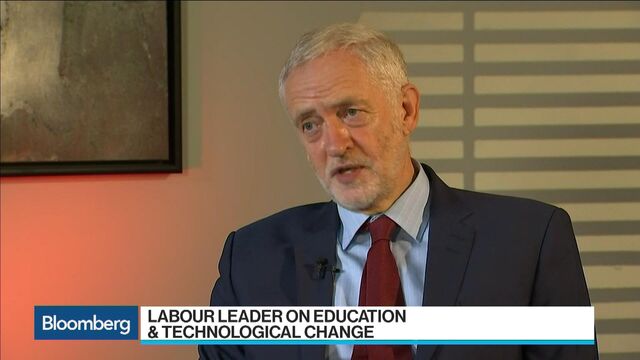 The announcement points to the confidence that Corbyn, an old-school Socialist once considered the underdog, has that he can exploit the weakness of his Conservative rivals and come to power on a call to end austerity.
"He is trying to create the impression of a prime minister in waiting," Mujtaba Rahman, Eurasia Group's managing director for Europe, said in an email. "It sends a terrible signal to the EU about the U.K.'s overall stability and the government's mandate and survivability. It suggests Corbyn is going to play dirty and use his presence in parliament to disrupt the Article 50 negotiations."
'Very Ready'
Labour erased Prime Minister Theresa May's parliamentary majority last month and she has what Corbyn called a "very strange" arrangement with Northern Ireland's Democratic Unionists that he expects will unravel and trigger another election. The U.K. has had three major votes -- including the EU referendum -- in as many years.

"Things could change quite quickly, we could at some point have another election, I don't know when, but we are ready for it, I am very ready for it," he told Bloomberg TV. Under his leadership during the campaign and after, Labour has edged ahead of May's Conservatives in opinion polls after a series of missteps and policy reversals by the premier.
Meanwhile, in Brussels, Barnier signaled that the bloc's stance on Britain's withdrawal hasn't softened. "A trading relationship with a country that does not belong to the European Union obviously involves friction," he told the European Economic and Social Committee in a dig at May's refrain that the U.K. wants the "most frictionless trade possible."
With Corbyn's emergence as a key player, "it has now become much more important for the EU27 to understand the priorities of a would-be Corbyn administration, as that could well be the reality in the not too distant future," said Rahman.
Corbyn's Brexit
During the interview, the 68-year-old longstanding euroskeptic sought to clarify his position on Brexit, an issue he's devoted much less attention to than public spending. In one 25 minute speech on Saturday, he devoted just 38 seconds to the subject.
Corbyn reluctantly put his name to the Remain side in the referendum and fired some lawmakers who backed an amendment in Parliament calling on the government to keep open the option of staying in the bloc's single market and customs union. He's said he's committed to pulling out of the single market, a goal shared with the Tories.
Rear more: Corbyn's Fans overlook that Labour leader is quite pro-Brexit
"Fundamentally we want to make sure there's tariff-free trade access to the European market, that's crucial," he said. "We accept the result of the referendum," he said. "The single market is a concept that requires membership of the European Union so what we're looking for is tariff-free access."
Corbyn said his party, which wants to protect the rights of EU citizens in Britain and maintain European-levels of consumer and environmental protections, is using its links with other socialist parties across Europe as it tries to build a constructive relationship for after Brexit.
Shadow Team
"Our shadow team, led by Keir Starmer, has had many discussions with EU officials, members of the European Parliament and we have a good relationship with socialist parties all across Europe who want to work with us for the future," Corbyn said. "We're putting a huge amount of effort into building up respectful good contacts and relationships all across Europe."
The Labour leader will be joined by members of Labour's Brexit team, which includes Starmer, Foreign Affairs spokeswoman Emily Thornberry and Barry Gardiner, the party's trade spokesman, according to an official familiar with the plans. The meeting was set up by mutual agreement, the official said.
Corbyn said he can't give a commitment "at this stage" on whether Labour would be prepared to pay for access to the single market. He also cited Norway as an example of a country with "very good relations with the EU" which has struck agreements with the bloc.
"We want to make sure the priority is to get access to that market," he said. "We will press for that and that is our objective. It's a jobs-first Brexit that we're concerned about."
May's spokeswoman, Alison Donnelly, declined to comment on the meeting. "Jeremy Corbyn's plans are a matter for Jeremy Corbyn," she told reporters in London.
Read more about why the British people are so angry with austerity
Asked what his message would be to the Group of 20 meeting in Hamburg -- if he was attending instead of May -- Corbyn said leaders should listen to the disatisfaction of their populations and increase investment in young people.
"There's a growing feeling of anger amongst young people in all industrial countries that somehow or other they're being left behind," Corbyn said. "They're going to be poorer than their parents' generation and their children will be poorer than they are. Inter-generational poverty is not a very enticing prospect for young people."
— With assistance by Ian Wishart, and Tim Ross
Before it's here, it's on the Bloomberg Terminal.
LEARN MORE