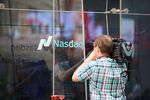 The biotech IPO market is unusual.
It can take a decade to develop a drug, so these companies demand long leashes and heroic tolerance for losses. Instead of valuing a business, IPO investors often must value a medicine or idea years away from the market. Given all the guesswork and risk involved, sentiment plays an outsize role in the ability of biotechs to go public.
It's not surprising, then, that a multi-year IPO boom died in 2015 when public controversy over high drug prices started to escalate, punishing stocks in the sector.
But pricing fears have started to fade, and biotech shares have begun to recover. That all helped make the second quarter the best for biotech IPOs since 2015. And while the previous IPO boom was less of a signal of health than of impending disaster, there's still a long way to go before anyone needs to get worried this time.

The second quarter was only the seventh largest in terms of biotech IPO value since 2013. The record second quarter of 2015 had a third more offerings that raised twice as much money. 
And though the Nasdaq Biotech Index is having a pretty excellent 2017 -- shares are up 16.5 percent so far this year -- it's still down more than 20 percent from its summer 2015 peak. Valuations are still depressed relative to the industry's recent heyday.
There are genuine reasons for an uptick in optimism. President Donald Trump hasn't uttered a peep about drug pricing in months, and his administration is reportedly working on an executive order about pricing that does more to help biopharma than harm it. The one area where his administration is applying pressure -- FDA commissioner Scott Gottlieb's efforts to speed generic-drug approvals -- is unlikely to affect companies making new and unique medicines.
M&A is one of the biggest traditional stock-valuation drivers for smaller biotech firms, and it has been slow to pick up in 2017. But there's a lot of cash sitting on the balance sheets of big pharma firms, which need new pipeline assets and revenue streams. 
So far there aren't many of the red flags seen at the height of the 2015 boom. That June, for example, Axovant Sciences Ltd. raised $360 million, one of the largest biotech IPOs on record, even though its lead drug had been abandoned by GlaxoSmithKline PLC after a failed clinical trial. 
About a month later, NantKwest Inc. raised $238 million with a focus on much-hyped cellular therapies -- which modify human immune cells to fight cancer -- and the fact that its CEO Patrick Soon-Shiong has made a habit of selling companies for billions of dollars. But the firm is years behind competitors that are only now getting close to market. Meanwhile, Soon-Shiong's ventures have been dogged recently by scandal and poor performance. NantKwest shares are down 67 percent from their IPO price.

In contrast, the largest biotech IPO of the second quarter was Biohaven Pharmaceutical Holding Co. Ltd., which raised $193 million in July. That's meaty, but not totally out of the ordinary. Like Axovant, Biohaven's closest-to-market drug, for treating migraines, is an asset abandoned by a larger firm. But Biohaven went public with more medicines in development. It has a leadership team with substantial drug-development experience. And it may have trial results for that migraine drug to put before the FDA in the first half of 2018. 
When we start seeing multiple quarters in which firms are raising more than $2 billion and very risky bets are going public at rich valuations, it might be time for concern. Until then, investors should enjoy the IPO uptick as one of a growing number of signs that biopharma is getting healthier.
Before it's here, it's on the Bloomberg Terminal.
LEARN MORE