Your Evening Briefing
Here are today's top stories
Bloomberg News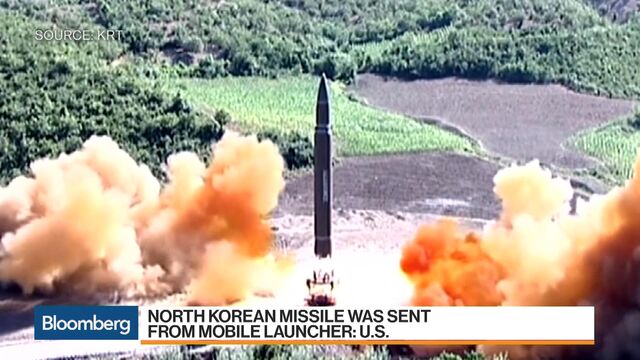 Want to receive this post in your inbox every afternoon? Sign up here.
He may not have won over Merkel and Macron, but President Trump will be more warmly embraced in Europe's eastern bloc, where many identify with his nationalist bent. After a Polish welcome on the first stop of his second jaunt overseas, Trump faces off with world leaders at the G-20 summit in Germany. But it's the first meeting between the U.S. president and Russia's Vladimir Putin that will make headlines. Veteran diplomats are particularly concerned that Trump, who is new to diplomacy, will be outfoxed and outplayed by the former KGB agent.—Katie Robertson
Global trade rebounds despite Trump's protectionist threats. Trump's election as U.S. president sparked warnings of damaging trade wars and an end to globalization as we know it. So far, those predications haven't played out. International trade is having its best performance in years as global growth enjoys its strongest synchronized upswing since 2010.
Fed officials couldn't agree when to begin shrinking the central bank's massive balance sheet, according to minutes of the June meeting. The Fed wants to start winding down the $4.5 trillion bond portfolio without roiling longer-term interest rates and while gradually raising the policy rates. The minutes indicate the committee wants to begin the process this year.
Tesla shares plunge after the electric-car maker reports flattening sales. The figures reinforce concern that Elon Musk may again by setting targets Tesla won't hit on time and cast doubt on whether he can pull off a steep production ramp for his most ambitious offering yet, the cheaper Model 3 sedan.
Soaring heat is hurting Texas wind power. Wind farms – which now account for about a fifth of the state's power mix – are forecast to generate significantly less electricity because of high temperatures. The decline in power supplies may hit just as Texas needs them most. Temperatures could reach 100 degrees Fahrenheit in some areas, a heat that'll have most people blasting their air conditioners.
Doing business with Putin. Trump meets the Russian president for the first time on Friday. Other U.S. and European leaders who have tried to cultivate ties with Putin have found it doesn't always pay political dividends. Here's a quick guide to those who have tried and failed to do business with the former KGB agent—and some who have succeeded.
The motorcycle industry is dying. As aging riders hang up their leathers, bike-makers are having the manufacturing equivalent of a mid-life crisis. Harley-Davidson and Honda are pinning their hopes on smaller, affordable bikes for a new generation.
Why you shouldn't wait until Tuesday to buy plane tickets. New data shows the conventional wisdom on when to get the best deal isn't quite correct. Hopper, an aviation insights company, applies machine learning and big data to find patterns in airfare prices. It's whipped up new recommendations for when to book both domestic U.S. and international flights, along with insights on the potential payoffs.  
Before it's here, it's on the Bloomberg Terminal.
LEARN MORE