Venezuela's Default Risk Is Rising
By
Nation's reserves haven't fallen below that level since 2002

Political tension spikes as Maduro plans new constitution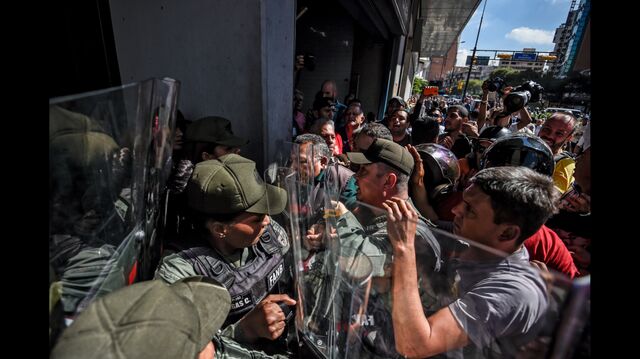 Bets on a Venezuelan default are climbing as international reserves slump toward $10 billion amid anti-government protests and President Nicolas Maduro's push to rewrite the constitution.
The implied probability of the country missing a payment over the next 12 months rose to 56 percent in June, according to credit-default swaps data compiled by Bloomberg. That's the highest level since December. The odds of a credit event over the next five years increased to 91 percent last month.

Maduro, who has faced three months of violent protests that have left almost 80 dead, has drastically cut imports of food and medicine in order to conserve the cash needed to pay bondholders with declining oil prices and production. That hasn't stopped a drop in reserves, which usually provide investors with a certain degree of assurance that the government will avoid default in the short-term. Recent deals to provide the government with liquidity have only resulted in minor spikes that have disappeared quickly.
The country faces payments on principal and interest of more than $5 billion in the remainder of the year, although no large sums are due before October.
Venezuela's opposition alliance is planning to hold an unofficial plebiscite on July 16 to gauge support for a national unity government. Voters will be asked if they support Maduro's plan to rewrite the constitution, what role the armed forces should play in restoring order and whether they would back a unity government. The referendum will occur just weeks before a July 30 vote for delegates for the constitutional convention that is opposed by two-thirds of voters and that critics worry could shift the country further toward Cuba-style authoritarianism.
For a QuickTake Q&A on Maduro's constitutional convention, click here.
Venezuela Dashboard Indicators
Trading in Venezuela's dollar bonds was more volatile in June, with its benchmark $4 billion of notes due in 2027 falling 5.2 percent to 49.9 cents on the dollar; yields rose to 21.6 percent
PDVSA's benchmark $3 billion of notes due in 2035 declined 6.7 percent to 45.69 cents on the dollar, with the yield rising to 22 percent
PDVSA's oil export basket price decreased 10.9 percent to $39.95 a barrel
Venezuela's international reserves trade near lowest level since June 2002
The weakest official exchange rate, used mostly for imports deemed non-essential, was devalued 24 percent to 2,636 bolivars per dollar on the government's Dicom auction system
On the black market, the U.S. dollar still costs almost three times more than the Dicom rate, with no prospects of recovery after Maduro raised the minimum wage by another 50 percent in a move that will likely stoke even faster money printing and inflation
Before it's here, it's on the Bloomberg Terminal.
LEARN MORE