Taking Wall Street's Side, Young Congressman Infuriates Allies
By
Small-business owner Ted Budd gets lesson on how laws are made

Retailers expected him to be ally; he sided with banks instead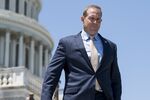 Ted Budd, a GOP congressman, got a hard lesson in the limits of his small-government philosophy early in his first term. But the new Wall Street allies he picked up during the debate over financial regulation give Americans a glimpse of how their legislative sausage is made.
When Budd won his House seat in November, among his biggest campaign donors were employees of Lowe's Corp., the home-improvement chain headquartered in his North Carolina district. Budd is a retailer himself, and his ownership of a gun shop was a key part of his pitch to voters. He vowed to cut red tape, slash taxes and reduce regulations.
In Washington, Budd affiliated himself with the Freedom Caucus, the group of conservative Republicans, and co-sponsored the Drain the Swamp Act. The bill called for every federal agency to move outside the Washington area. It was intended to help solve the "disconnect between the D.C. elite and hardworking Americans," Budd said, as well as save taxpayers money on office rent. Budd takes his penny-pinching seriously. He sleeps on a fold-out bed in his Capitol Hill office when Congress is in session.
In April, Budd found himself in the middle of one of the ugliest lobbying battles in Washington: the skirmish over debit-card swipe fees. It pits two powerhouse industries, banking and retail, against each other.
Fee Cap
Every time a consumer uses a debit or credit card, banks charge retailers a fee to process the transaction. It's a big moneymaker for banks and a huge cost to retailers. After the 2008 financial crisis, Congress passed the Dodd-Frank law to rein in Wall Street. In the legislation was a cap on swipe fees for debit cards, something retailers applauded. The provision has cost banks more than $9 billion in revenue, according to analysts at Goldman Sachs Group Inc.
Banks argue the government shouldn't set prices. Retailers say lower fees translate to lower prices. It's such a touchy subject that GOP leaders removed the swipe limit from a broader bill overhauling Dodd-Frank that the House passed June 8. GOP leaders concluded repeal of the swipe-fee cap was radioactive.
Budd, however, took sides before the measure was defeated -- not with his former retailing brethren, but with the banks. It was a matter of political ideology. To him, the issue was about keeping the government out of private business. "It's a point of freedom," he said. "This is about price controls at its heart."
Budd drew a hard line, questioning whether swipe fees were hurting consumers during Financial Services Committee hearings in April and, the next month, writing an op-ed in the Washington Examiner that accused his Republican colleagues of being beholden to "powerful interests." Also in May, he recruited Freedom Caucus members to join him in petitioning House leaders to force individual lawmakers to register a vote, though the letter was never sent.
'Shady Character'
Budd's erstwhile supporters turned on him. The National Retail Federation began running ads in his district to highlight his perceived treachery. The radio, newspaper and online spots didn't mince words. They called Budd "a pawn" for Wall Street and featured pictures of what they tout is a "shady character" -- a banker -- stealing money out of a wallet.
"As someone who paid swipe fees, it's disappointing to us that Congressman Budd didn't feel more strongly about them," said David French, the retail group's top lobbyist.
The ads rankled Budd. Days after they began airing, he complained about them in a letter to GOP leaders, including House Speaker Paul Ryan. The National Retail Federation, he wrote, is posing a "direct threat" to his 2018 re-election. It was an unusual move, especially because it asked Republicans to consider retaliating against a major political donor. Capitol Hill staffers and long-time lobbyists said they were surprised, even embarrassed, by the audacity of a freshman lawmaker to make such a stink. Budd's letter has gone unanswered.
'Tunnel Vision'
Budd said retailers have overreacted, and that they shouldn't have "tunnel vision" on swipe fees because Republicans plan to make so many other policy changes that will help their bottom lines. While he said that he "cringed every month" when he saw how much he spent on credit- and debit-card fees at his store, ProShots, Budd said they were a necessary cost of doing business. "My heart and mind are with retailers," Budd said. "I am one of them."
So far, retailers don't seem convinced. Lobbyists and company executives began pounding on Budd's door, reminding him of how many of his constituents they employ, according to people familiar with the matter. 
Budd's rift with retailers has spawned the opposite reaction from bankers, who pay close attention to the Financial Services Committee, where Budd is a member. He's made new friends in well-heeled places.
Bank lobbyists have privately and publicly cheered their new ally in Congress. The Electronic Payments Coalition, whose members include big banks, issued a press release praising Budd, among others, for speaking out on the issue and for "leadership in the fight to end this merchant markup.'' Budd said he plans to introduce a separate bill on the issue and has vowed to keep fighting.
Lowe's said it doesn't endorse political candidates or donate money to campaigns. But a group of company employees donated $10,000 to Budd's maiden campaign last year. It remains to be seen how much Wall Street will contribute to his re-election fight in 2018.
Before it's here, it's on the Bloomberg Terminal.
LEARN MORE