Saudi Bloc Slams Qatar But Stops Short of Imposing New Sanctions
By , , and
Alliance says it will meet again in Bahrain to weigh options

Four nations say reserve right to take additional measures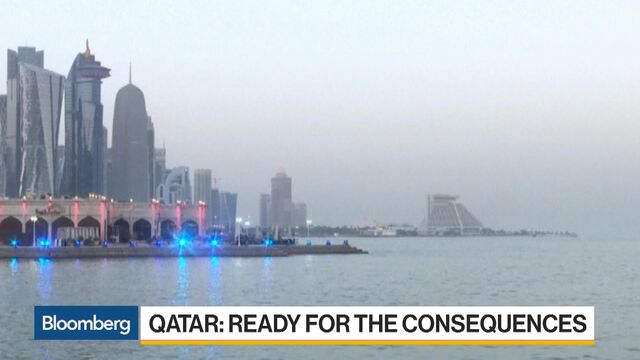 The four-nation alliance that severed ties with Qatar rejected its response to their conditions for ending their monthlong showdown yet stopped short of announcing new penalties, a reflection of the constraints they face in trying to dictate changes to its foreign policy.
Doha's response to the 13-point list of demands "evinced complacency" and failed to recognize the gravity of the situation, the alliance said Wednesday as the deadline it gave Qatar to comply with its demands expired. Egyptian Foreign Minister Sameh Shoukry said the allies -- Saudi Arabia, Egypt, United Arab Emirates and Bahrain -- wouldn't make "hasty" decisions and would continue strategy talks in Bahrain on an unspecified date.

The lack of a plan highlighted the delicate position the alliance is in as both sides dig into their positions. While the isolation is taking its toll on Qatar -- Moody's Investors Service cut its credit rating to negative and its stock market has dropped 10 percent since the boycott took effect on June 5 -- the country has received support from Turkey and Iran, and has said it's ready and able to wait out the embargo for as long as it takes.
The four-nation bloc has to tread a fine line between pressuring Qatar without alienating an international community with no appetite for further conflict in the region, said Graham Griffiths, an analyst at global risk consultancy Control Risks in Dubai.
"They are constrained in what escalation measures they can take and they're facing an international community that prefers some kind of negotiated settlement, which they're not really interested in,'' Griffiths said. They need "more time to figure out measures that would increase the pressure on Qatar without violating international law or engendering a negative response from the international community.''

Deliberately Tough
Qatar dismisses the bloc's allegations that it sponsors terrorism and is too close to Iran, and has characterized its demands as designed to be unacceptable. The conditions include severing ties with the Muslim Brotherhood, scaling back relations with Iran, Saudi Arabia's rival for regional hegemony; shutting the government-funded Al Jazeera television station, which has been critical of other autocratic governments in the region; and end Turkey's military presence in Qatar.
On Wednesday, Qatar's foreign minister, Sheikh Mohammed bin Abdulrahman Al Thani, told a Chatham House event that Saudi Arabia and its allies see Qatar as "punching above its weight" and want to silence an alternative voice.
The Saudi-led alliance has "plenty of cards to play," including more financial sanctions, but none of the options are "painless things to do," said David Andrew Weinberg, a senior fellow at the Foundation for Defense of Democracies.
"The fact that these four countries couldn't even decide when they're going to have their next meeting in Bahrain suggests that there is not yet consensus over where they'd like to go next," he said.
No Forgiveness
Shoukry said the alliance "can no longer forgive Qatar's disruptive role." His Saudi counterpart, Adel Al-Jubeir, said the alliance would weigh additional measures against Qatar and that it reserved the right to take action when appropriate.
Kuwait's emir is working to mediate the dispute, and U.S. President Donald Trump, in a call with Egyptian counterpart Abdel-Fattah El-Sisi, urged "all parties to negotiate constructively to resolve the dispute," the White House said in a statement. Trump stressed the need for nations to follow through on their commitment at a meeting in the Saudi capital in May to "stop terrorist financing and discredit extremist ideology."
"While additional punitive measures are likely if Qatar maintains its current policy, the anti-Doha coalition appears sensitive to the narrative of the dispute and the need to appear flexible and patient," said Ayham Kamel, director of the Middle East & North Africa at Eurasia Group in London. Trump's call "probably convinced the alliance to maintain a degree of flexibility to avoid immediate escalation of the crisis."
— With assistance by Dana Khraiche
Before it's here, it's on the Bloomberg Terminal.
LEARN MORE