Illinois Bonds Rally After State Moves to End Budget Impasse
By and
Senate overrides governor's veto to on budget, tax hikes

Resolution now awaiting action by the House of Representatives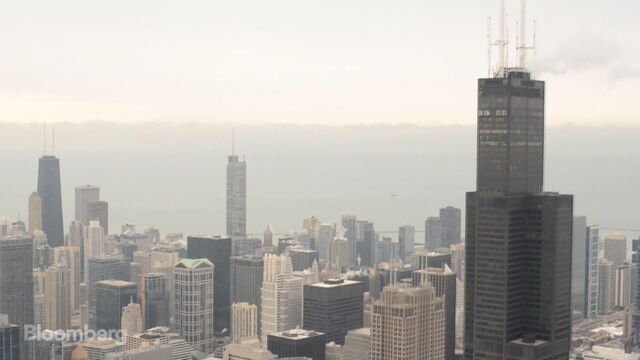 Illinois bonds surged as the legislature moved closer to ending a record-long impasse over the budget, increasing speculation that the state may avoid having its credit rating cut to junk.
The rally came after the state senate overrode Governor Bruce Rauner's veto to approve tax increases and the first full-year budget in two years, sending the measures to the House of Representatives. Without a spending plan in place, Illinois had been squeezed by chronic deficits and credit-rating companies warned that they may withdraw the state's investment-grade rank, a step that could have prevented some investors from buying its debt.

"It does look good -- it looks like the momentum is there," said Gabriel Diederich, a portfolio manager at Wells Fargo Asset Management, which has Illinois debt among municipal bond holdings. "When you get shreds of fiscal management and fiscal prudence, even small steps have been greeted positively."
The average price of taxable general-obligation bonds due in 2035, some of the most actively traded, jumped 7.3 percent to 111.3 cents on the dollar Wednesday, the highest since late October. That pushed the yield down to 6.3 percent from about 7 percent on July 3. Illinois bonds were the most heavily traded municipal securities Wednesday.
The resolution of the budget impasse is waiting on lawmakers in the house, which initially passed the measures with enough bipartisan support to override the Republican governor. While the senate took that step on Tuesday, the house didn't have enough members present for a vote Wednesday and is now scheduled to vote Thursday.
The progress was lauded earlier in the week by rating companies including S&P Global Ratings, which previously said it would likely cut Illinois's debt to junk around July 1 if steps weren't taken to rein in the government's persistent shortfalls.
Late Wednesday, Moody's Investors Service took a less sanguine view. The company -- which had a negative outlook on Illinois's rating -- said it placed the state on review for a potential downgrade even though it anticipates that the house will successfully override Rauner's veto. Moody's said the tax increase may yield less revenue than anticipated, while a plan to issue bonds to pay down a pending bills will add to the government's debt.
"Despite the progress toward budget balance that the emerging fiscal plan embodies, the plan entails substantial implementation risk," Moody's said in a statement.
Without a budget, Illinois had effectively been operating on autopilot, leaving it with a record backlog of unpaid bills and on track to run out of money by August for key expenses such as school funding, payroll and pension contributions.
"It's been a long time coming," said Diederich . "I don't want to act like this was a short-term accomplishment. The market has been waiting a long time for this."
Rauner said he remains steadfastly against the plans enacted by the legislature, despite the pressure from rating companies.
"The people should come first in Illinois, not Wall Street," Rauner told reporters on the far south side of Chicago on Wednesday. "Speaker Madigan and his subordinates should not be working for Wall Street credit agencies. They should be working for the people of Illinois."
Quotes from this Article
Before it's here, it's on the Bloomberg Terminal.
LEARN MORE