South Korea Looks Into Whether North Korea Missile Was an ICBM
By
North Korea says to make major announcement this afternoon

In tweet, Trump urges China to put a 'heavy move' on Pyongyang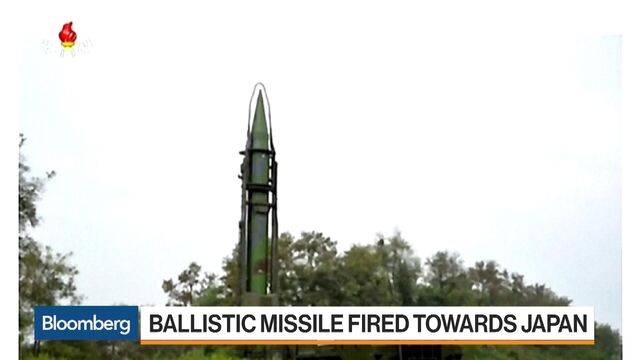 North Korea's test-fired a ballistic missile toward Japan and said it would make an "important announcement" Tuesday afternoon, prompting South Korea to examine if the regime had managed its first successful intercontinental ballistic missile launch.
South Korea's Joint Chiefs of Staff said the projectile was fired around 9:40 a.m. and flew about 930 kilometers (578 miles). Japan's Defense Ministry said it reached an altitude that "greatly exceeded" 2,500 kilometers. It was airborne for around 40 minutes.
The U.S. Pacific Command said in a statement it tracked a land-based intermediate range missile that landed in the Sea of Japan. But the lofted trajectory has led South Korea and the U.S. to now look at whether it was an ICBM, South Korean President Moon Jae-in said in a National Security Council meeting.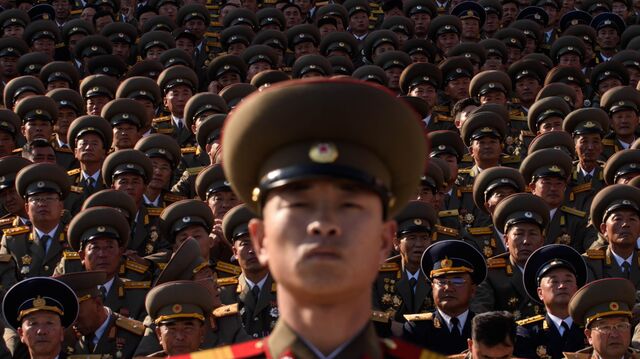 North Korea will make its announcement at 3 p.m. Pyongyang time (3:30 p.m. in Seoul), Yonhap reported, citing the regime's state-run radio station.
If North Korea claims to have tested its first ICBM it risks a serious escalation with its neighbors and the U.S. over its weapons program. Leader Kim Jong Un has been pushing ahead with missile tests in a bid to develop one that can carry a nuclear warhead to the continental U.S., prompting President Donald Trump to warn him in January on Twitter that "it won't happen!"
David Wright, a co-director of the Union of Concerned Scientists, wrote on the group's website that the projectile had the potential to reach all of Alaska and could be a modified version of the Hwasong-12 missile that was launched in May. That projectile reached an altitude of 2,111.5 kilometers before landing 787 kilometers from the launch site.
Trump Tweets
It's the 11th missile test this year by the regime, and comes in defiance of United Nations sanctions. Trump responded on Twitter on Tuesday to Kim's latest provocation, asking "does this guy have anything better to do with his life?"
"Hard to believe that South Korea and Japan will put up with this much longer," Trump said. "Perhaps China will put a heavy move on North Korea and end this nonsense once and for all!"
The launch comes amid renewed tensions between the U.S. and China about how best to rein in Kim, with Trump set to meet Chinese counterpart Xi Jinping this week at the Group of 20 summit. Trump has said all options including military force are available to combat threats from North Korea, in line with longstanding U.S. policy on the matter.
Japanese Prime Minister Shinzo Abe said in televised remarks the threat from North Korea is "escalating" and called on China and Russia to play a more constructive role.
China Tensions
"This launch, especially at this time, will encourage the U.S. and China to work even harder at getting North Korea to immediately halt any additional missile launches or nuclear tests," said Joseph DeTrani, a former senior adviser to the U.S. director of national intelligence who helped broker a 2005 agreement on Pyongyang's nuclear program.
The yen briefly spiked against the dollar and the Topix index fell, while South Korea's benchmark Kospi share index declined as much as 0.8 percent.

While Trump has urged China to do more to contain North Korea, he said last month that Beijing had failed to rein in its neighbor and ally, in comments that came after the death of a U.S. student following more than a year of imprisonment in North Korea.
"While I greatly appreciate the efforts of President Xi & China to help with North Korea, it has not worked out," Trump tweeted on June 20. "At least I know China tried!"
'No Hurry'
China said in response its efforts had been "indispensable," while North Korea denied it had tortured Otto Warmbier.
"Today's missile test will further incentivize Washington to take a harder-lined stance and pressure Beijing to do more," said Duyeon Kim, a visiting senior fellow at the Korean Peninsula Future Forum in Seoul. She added that North Korea "seems to be saying it's in no hurry for dialogue."
The U.S. announced last week it was imposing sanctions on a Chinese bank, a shipping company, and two Chinese citizens in an attempt to cut off North Korea's access to the international financial system.
The missile tests also complicate the new South Korean president's efforts to engage with Pyongyang. Last week in a speech in Washington, Moon repeated his hope for talks with North Korea -- a stance that potentially puts him at odds with Trump.
On June 8, North Korea fired a series of short-range cruise missiles designed to attack ships. Previous tests were of ballistic missiles, including a May 14 projectile that analysts estimate had a range of 4,500 kilometers, putting it within reach of the U.S. territory of Guam.
The U.S. on May 30 tested a missile defense system that it said successfully intercepted and destroyed a mock intercontinental ballistic missile. The trial was the first intended to replicate the flight profile of an ICBM that could be deployed by North Korea.
— With assistance by Shin Shoji, Heejin Kim, Seyoon Kim, and David Tweed
Before it's here, it's on the Bloomberg Terminal.
LEARN MORE