What Angela Merkel's Election Platform Means for Europe
A quick guide to what the German chancellor is promising.
By and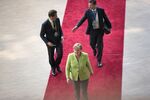 Chancellor Angela Merkel presented her campaign platform on Monday, pledging to keep Germany a reliable partner in an unsettling world, hold the euro area to its fiscal pact and deliver a 15 billion-euro ($17 billion) tax cut mostly for mid-level incomes. Three months before Germans go to the polls, the proposals by Merkel's Christian Democratic Union and her Bavarian CSU allies reflect an if-it-ain't-broke-don't-fix-it approach to an economy that's seeing steady growth and record-low unemployment, according to Holger Schmieding, chief economist at Berenberg. Some of the top themes:
Economic Plan
It's short on details, calling for Germany to stay highly competitive and vowing to "protect ourselves against unfair trade practices" while championing free trade. Headline pledges include halving unemployment to less than 3 percent by 2025, four years beyond Merkel's next term if she wins it on Sept. 24. "This platform doesn't offer a lot of impulses for the German economy, but it also doesn't give the Social Democrats a lot to attack," said Carsten Brzeski, chief economist at ING-Diba in Frankfurt.

Euro Area
The platform plays up France as an ally after Emmanuel Macron's election as president, offering to discuss the creation of a European Monetary Fund and aligning national corporate-tax rates. But the bottom line is red meat for her bloc's many fiscal conservatives who oppose shared euro-area debt. "The benchmark must remain: we continue to rule out a mutualization of debt," the platform says. And turning the euro area's ESM financial backstop into a full-fledged monetary fund can happen only with "clear and tough" criteria, Merkel told reporters in Berlin.
Partner in Paris
Merkel has latched on to Macron to try to energize ties between the two biggest euro-area economies. That includes joining to save the Paris climate accord after President Donald Trump pulled the U.S. out. Germany and France led the way on big European projects in the past "and that's how it should be again in the future," according to the platform.
Tax Cut
Merkel's tax plan, first floated by Finance Minister Wolfgang Schaeuble months ago, reflects CDU-CSU priorities, such as promoting families and the skilled trades. It would raise the threshold for the top income-tax bracket and rejects a "wealth tax" on the rich. Social Democrat Martin Schulz, Merkel's main challenger for the chancellorship, called the plan "timid" and unfair, saying it privileges high earners.
Trump's Shadow
Merkel and Schulz are competing in attacking Trump as he upends the global order. For the 12-year incumbent, it's a chance to present herself as a known quantity in uncertain times. "It's Germany's task to be an anchor of stability in the world," according to the platform, which portrays German democracy as under attack by "populists of the left and the right." It reprises Merkel's dramatic comment after her first Group of Seven summit with Trump in May, saying "the times when we could completely rely on others are to some extent over."

Defense Spending
While the Social Democrats suggest they won't honor NATO's goal of gradually raising defense spending to 2 percent of gross domestic product, Merkel's platform says she will if re-elected. Europe must gird itself and take on a bigger defense role, even though the U.S. remains "our most important partner outside Europe." That's a less effusive tone than in the last platform four years ago, which called the U.S. a "friend and partner."
Refugee Compromise
A year ago, poll ratings for Merkel's bloc were at a low amid infighting with her Bavarian sister party over Germany's record influx of asylum seekers. On Monday, Bavarian premier Horst Seehofer stood alongside Merkel praising her measures to restrict the flow. While stopping short of the refugee cap demanded by Seehofer, the platform pledges to keep the influx "permanently low."
Coalition Options
Germany's parliament, which elects the chancellor, may have six parties after the election, two more than have seats in the current legislature. The CDU-CSU's manifesto doesn't put up "insurmountable hurdles" for possible coalition talks with the Social Democrats, the pro-market Free Democrats or Greens, said Berenberg's Schmieding. "But a 'preserve the gains, do no damage' platform is quite appropriate for an economy that is doing exceptionally well and hence doesn't require fundamental change."
Before it's here, it's on the Bloomberg Terminal.
LEARN MORE