politics
Venezuela Opposition Plans Plebiscite as Violence Mounts
By and
Symbolic vote comes as Maduro tries to rewrite constitution

Analysts fear increase in violence over coming weeks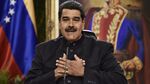 Venezuela's opposition alliance is planning to hold an unofficial plebiscite on July 16 to gauge support for a national unity government as months of violent protests spread into poorer neighborhoods of Caracas.
Voters will be asked if they support President Nicolas Maduro's plan for a new assembly to change the constitution, what role the armed forces should play in restoring order and whether they would back a unity government, Julio Borges, president of the opposition-controlled National Assembly, said Monday.
While the referendum would lack any real enforcement mechanism, it will occur just weeks before a July 30 vote for delegates for a constitutional convention that is opposed by two-thirds of voters. Critics fear Maduro will use the convention to consolidate power and take the country further toward Cuba-style authoritarianism. With the opposition saying it won't participate in the vote, Venezuela is bracing for an uptick in violence that has left more than 80 dead since March. 
"Venezuela is entering a new circle of hell," Russ Dallen, managing partner at Caracas Capital Markets, said in an emailed report on June 30. "As the hopelessness of this future becomes more obvious to the opposition and a majority of Venezuelans, violence, civil strife, assassinations, and probabilities of coup attempts will exponentially increase."
Maduro, in a post to his Twitter account on Monday as the opposition announced the plebiscite, vowed to advance with plans for the constitutional assembly.
The opposition vote will be held without the approval of the National Electoral Council in churches across the country, according to two opposition officials with knowledge of the plan who said they were not authorized to discuss the matter publicly.
The constituent assembly had a high probability of taking place and would most likely move to dissolve the opposition-controlled National Assembly once convened, Dallen said.
The opposition alliance is showing no signs of slowing down protests that have intensified over the past weeks. On Tuesday, supporters are being called to participate in a six-hour shut down of streets across the country.
— With assistance by Nathan Crooks
(
Updates with official announcement of vote from second paragraph.
)
Before it's here, it's on the Bloomberg Terminal.
LEARN MORE