Portugal Soccer President Claims Bribery, Fraud in Player Market
By and
Government intervention required, says Sporting's Carvalho

Portugual has critical role in $5 billion of global transfers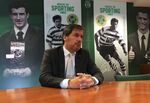 At first glance Portuguese soccer has never been healthier: The national team is the champion of Europe, star player Cristiano Ronaldo has been voted the world's best and international clubs are shelling out millions for talent produced in the country.
But for Bruno de Carvalho, president of 18-time champion Sporting Clube de Portugal, those successes are undermined by a dark underbelly of bribery and corruption that can only be tackled by outside intervention and regulation.

"For four years I'm here saying the government needs to put a hand on this," de Carvalho, an outspoken voice since his election to office in 2013, said in an interview at Sporting's Jose Alvalade stadium in Lisbon. "The government needs to say: 'enough'."
Portugal's top three clubs compete for popularity in the nation of 10 million people, and it's not uncommon for their leaders to engage in public spats. This month, Benfica, Portugal's biggest club and Sporting's arch rival, was accused of inappropriate contact with referees following a leak of emails to local media. That came about a decade after a corruption scandal that ended with Pinto da Costa -- long-standing president of 2004 European Cup winner Porto -- being given a two-year suspended soccer ban in a non-criminal investigation for attempted bribery.
Portugal Scores With the World's Richest Sport
Benfica denies any allegations of acting improperly. Portugal's Publico newspaper reported public prosecutors are looking into the matter.
Sitting at a wooden desk that's overlooked by over-sized photos of Ronaldo and Luis Figo, who like Ronaldo was a former Sporting player who went on to become a soccer icon with clubs including Real Madrid, de Carvalho raised his voice in frustration as he described how soccer's $5 billion global trading market is open to fraud, with unethical and illegal behavior particularly common in Portugal.
"It's very easy to steal money from a club," he said, before going on to describe the process of illicit payments being made. "You don't even need to open a bank account, it's very easy."
De Carvalho's comments come a year after Joao Vale e Azevedo, a former Benfica president, was released from jail after serving time for crimes including the embezzlement of funds from the transfer of players. Separately, authorities in Spain, France and the U.K. are investigating player transfers and contracts following a massive leak of documents that provided a rare glimpse of the often opaque world of soccer finance. De Carvalho alleges that unscrupulous agents sometimes offer bribes to club officials.
A spokesman for Portugal's top league declined to comment on the allegations made against Benfica, citing the ongoing investigation by the public prosecutor's office. He said he couldn't immediately comment on de Carvalho's comments.
Rethink on Agents
Sporting's prowess at producing players is well known in Europe -- 10 of the 14 players used by Portugal in the Euro 2016 final came through its academy. Yet until recently it lagged behind Porto and Benfica in attracting the biggest fees for its top athletes.
De Carvalho says clubs should rethink the amount they spend on agents, revealing he didn't use one when he concluded the biggest sale in Sporting's history, the 45-million euro ($51 million) trade that took midfielder Joao Mario to Inter Milan last year. Benfica, which earned about 80 million euros in player sales last year, also paid 30 million euros in agents fees, a figure that's far higher than the record amount it's ever paid for a player.
"It's possible to form relationships with agents if they understand that they have to find a way to not eat the whole cake," Carvalho said.
Watch Next: Portugal Scores With the World's Richest Sport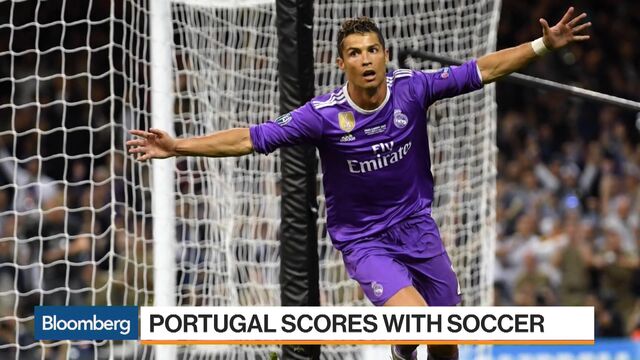 — With assistance by Joao Lima
Before it's here, it's on the Bloomberg Terminal.
LEARN MORE