Jewelry Maker Pandora Now Pushes Back Against U.S. Slowdown
By
New products are gaining 'traction' in U.S., CEO Friis says

CEO plans to open more jewelry stores in western U.S.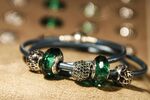 Pandora A/S, which has lost a third of its market value this year amid slowing U.S. sales, is now betting on reviving its biggest market by replacing under-performing stores and hoping new products will be a bigger hit with consumers.
"We're not just waiting for the good times to return to the U.S. retail market -- we see things we can do now in terms of new products and new product categories," Chief Executive Officer Anders Colding Friis said in a telephone interview on Friday. "We see good possibilities for strengthening our business in the current environment."

Pandora's first-quarter revenue declined 10 percent in the U.S., where the Copenhagen-based company has closed under-performing stores as it suffers from a general drop in shopping-mall traffic. The stock market has also punished Pandora for a lower sales growth in charms, its key product. At the same time, hedge funds have increased short positions, speculating the stock will drop further.
The shares rose as much as 7.2 percent in Copenhagen, the biggest gain since October last year, and were up 38 kroner at 645.5 kroner as of 3:37 p.m.
Friis acknowledged that some of the products in Pandora's U.S. Valentine's Day collection back in February had been "weak." Meanwhile, jewelry introduced on the U.S. market before and after Mother's Day on May 14 had "gained traction," he said.
"Mother's Day is an important event for us and we have launched new products and they have been well received," the CEO said. An open-ended bracelet, introduced in the second half of the second quarter in the U.S., is also "boding well," he said.
Read more on the U.S. mall industry here
"Even as retail stores are challenged in the U.S. we still see opportunities there and will open more stores, especially in the western part of the country where our store network isn't fully developed," Friis said. "So we see good opportunities in the U.S. market."

Pandora is 2017's fourth-worst performer in the Stoxx Europe 600 Index and the share plunge has made it the index's most undervalued stock, based on the gap between the share price and the average price target of analysts, according to data compiled by Bloomberg. On average, analysts now predict a 67 percent return potential over the next 12 months. The stock has 14 buy recommendations, 2 hold and just one sell.
Friis declined to comment on the share price. He also declined to comment on short positions held by hedge funds.
New York-based Coatue Management LLC has tripled its short position to 2.1 percent of the shares issued, up from 0.57 percent in February, according to filings by the Danish Financial Supervisory Authority. Greenwich, Connecticut-based Lone Pine Capital LLC has a 1.46 percent short position compared with 0.52 percent in February. Both funds declined to comment.
Accumulated short interest in Pandora is about 6.2 percent, up from about 0.5 percent a year ago, according to Markit data.

The U.S. market currently makes up about 25 percent of Pandora's revenue compared with 40 percent 5 years ago. Friis returned last week from a trip to the U.S. where he said the company is making progress with online sales.
"Our organization in the U.S. is very focused and works on the things that we can influence ourselves," he said. "The U.S. is a well-established market, so we obviously won't see growth rates like the ones we have in China, but we see opportunities for further developing our business in the U.S," he said, declining to comment on when Pandora expects U.S. revenue to grow again.
The 35-year-old company, which built its success on charms manufactured in Thailand, has in recent years branched out into rings, earrings and necklaces, which now make up one-quarter of its revenue.
According to Friis, the new products will make up an an increasingly larger share in the future. That will make Pandora more balanced and it will open up possibilities for more growth, he said, noting that necklaces are the biggest jewelry category globally, with earrings the biggest in the U.S.
"Our focus is to hold on to our core, which is charms and bracelets, and then add the other categories on top of that," he said. "We will continue that journey."
Before it's here, it's on the Bloomberg Terminal.
LEARN MORE