Israeli Leadership Contest Delayed Because of Britney Spears Concert
By
Herzog trails former chairman Peretz in polls ahead of primary

Party struggles with lapdog image as peace prospects beckon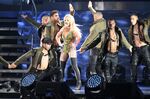 Israel's once-dominant Labor Party goes to the polls Tuesday to pick a leader to try to dislodge Benjamin Netanyahu, the country's second-longest-serving prime minister. First it had to make sure voters didn't defect to see Britney Spears.
Desperate to lift turnout among younger members, Labor's elections committee postponed the primary by 24 hours to avoid a conflict with the American singer, who was expected to draw 50,000 fans to a July 3 concert at Tel Aviv's Hayarkon Park.
"In a beauty contest between a bunch of shouting men and Britney, at least Labor is in touch enough to know what their voters might prioritize," said Dahlia Scheindlin, a Tel Aviv-based public opinion consultant.
Labor's biggest challenge is irrelevancy. Its roots stretch back well before Israel's founding in 1948 and the party produced the first five prime ministers. The last Labor premier was Ehud Barak, who served less than two years and was unseated in 2001. The party's current chairman, Isaac Herzog -- whom Netanyahu clobbered in the 2015 election -- is routinely eclipsed by more charismatic leaders of other opposition parties. Six challengers are snapping at his heels.
They are led by Amir Peretz, a former defense minister and ex-party leader who has topped most polls but is unlikely to reach the 40-percent threshold needed to avoid a run-off next week. The other major contenders are Erel Margalit, a lawmaker and founder of one of Israel's biggest venture capital funds, and Avi Gabbay, previously chief executive of state-owned telecommunications company Bezeq Ltd. and a former environment minister.
'Bear Hug'
Herzog, the 56-year-old son of sixth president Chaim Herzog, was elected party chairman in 2013. He's struggled to project an image of authority while criticizing the government for letting peace efforts with the Palestinians crumble.
He was left damaged last year after negotiating to enter the Likud-led coalition as foreign minister with the understanding that Netanyahu would embrace an Egyptian plan for reviving peace talks. Instead, Netanyahu brought nationalist Avigdor Liberman into his government as defense minister and the peace plan withered.
"Netanyahu's very good at letting somebody give him a bear hug and then destroying him," said Mitchell Barak, a pollster and former aide to the prime minister. "At the end of the day, it looked like Herzog was groveling."
Labor ran as senior partner in the 2015 election on the Zionist Camp ticket with former Foreign Minister Tzipi Livni's Hatenuah party. Together they hold 24 seats in the 120-member Knesset, second to Likud's 30.
Peretz Top
Israel's next election must be held by November 2019 but a series of criminal investigations could advance things. Netanyahu has been interrogated by police about suspicions that range from trading political favors for champagne and cigars to conflicts of interest involving Israel's purchase of German submarines. He has denied any wrongdoing in the cases.
Outside of Labor, those jockeying to replace Netanyahu are Finance Minister Moshe Kahlon, head of the allied Kulanu party -- who's tied his fortunes to his crusade to bring down housing prices -- and Yair Lapid, a one-time television talk-show host, leader of the opposition Yesh Atid party and himself a former finance minister fired from Netanyahu's previous government.
Peretz, 65, a former Histadrut labor federation chief who led Labor to second place in 2006 elections, topped a Dialog poll of 500 registered Labor voters published in Ma'ariv June 14 with 23 percent. He was trailed by Gabbay with 21 percent, while Herzog and Margalit both had 14 percent.
Margalit, 56, has aggressively pursued Herzog as being a weak opposition leader. Both he and Gabbay, 50, have emphasized their business experience as critical to boosting the economy, which grew only 1.4 percent in the first quarter after expanding 4 percent last year.
"The question is whether anyone in this contest has sufficient leadership and vision to re-create this party," said Scheindlin. "If not, will anyone in the leadership admit that Labor is no longer capable of offering Israeli politics the alternative it desperately needs, give up the ghost and join forces with parties that can?"
Before it's here, it's on the Bloomberg Terminal.
LEARN MORE