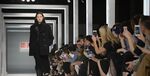 The social shopping catwalk is littered with stumbles. Funnily enough, a company best known for its hard-working sneakers might just show the stiletto crowd how it's done.
Nike Inc. said Friday it is going to sell some of its products through Instagram, the Facebook-owned photo-sharing app. Details on how it will work are sketchy. The Beaverton, Oregon-based company said its customers would be able to shop "seamlessly" within the platform.
Retail, luxury and beauty brands have long salivated over selling to social-media addicted millennials. But so far, no-one has got it quite right.
Facebook Inc.'s multiple (non-Instagram) efforts have all fallen flat. Twitter's buy-button project faded. And as Bloomberg News has noted, it's not clear how popular Pinterest's commerce functions are with customers -- that's disappointing since the site is ideally suited to shopping as it's visual and about "stuff" rather than personal relationships.
Instagram has the best chance of selling to its 700 million monthly users. As Gadfly has noted, it is beloved by fashionistas because of its glossy magazine-style photos that can be filtered to perfection. It has also been steadily developing its commerce capabilities since the launch of its buy button two years ago.

Last November, Instagram stepped up its retail assault: letting brands tag products in their photos, the way users tag their friends. Instagrammers can tap on the tagging descriptions to get more information, then tap again to buy on the retailer's site. It trialled the feature with 20 brands, including J. Crew, Kate Spade and Warby Parker, expanding to many more in March.
When it comes to shopping, Instagram still faces challenges.
First of all, it's not yet clear whether shopping via posts with tags will catch on with consumers, although Instagram said earlier this year that early results were "encouraging."
Second, there is a delicate balance to be struck between being social and pushing sales. Social media is like a friend you want to spend time with. You wouldn't like it if your pal turned round and started flogging you a new handbag.
While brands say Instagram remains ahead of the pack in terms of commerce, it faces challenges from rival platforms. Yoox Net-A-Porter Group SpA is successfully using Facebook's WhatsApp to sell to certain customers. So far, the ephemeral images in Snap Inc.'s Snapchat are not so well suited to shopping, but that could change.
If Instagram doesn't get its act together, retailers seeking to sell through social media will simply find other ways. British online retailer Asos Plc, for example, is experimenting with visual search. Shoppers can use a screen shot of an Instagram post to search for similar items on its site. The aim is to own the customer relationship, and brands' own initiatives take this out of the platforms' hands.
Still, there's an incentive for them to work together. Big luxury houses have large Instagram followings, and partnerships such as Nike's could help them monetize these assets.

Customers are becoming more comfortable with buying high-value items online. As long as they are convinced of the security of spending large amounts of money through the app, Instagram shopping could help develop this market further -- particularly given its affinity to fashion.
There's another benefit for the brands. Luca Solca, analyst at Exane BNP Paribas, says selling through social media is a way of circumventing wholesale partners such as department stores, and taking more control of their distribution. Nike's initiative highlights this idea, as it is aimed at selling athletic gear directly to customers. 

Of course, hooking up with a social network is not without perils. Instagram is not taking a cut of any revenues generated from shopping through the app. But there's always a possibility that strategy could change in the future, particularly if Instagram ads reach a saturation point.
For now, brands such as Nike are prepared to take the risk. The prize in capturing those selfie-obsessed millennial customers is too great to pass up.
Before it's here, it's on the Bloomberg Terminal.
LEARN MORE