politics
Ethics Issue 'Nonsense,' Said Official Who Cleared Trump Hotel
By
Email to Trump Organization sent days after November election

Months later, officer found hotel lease 'in full compliance'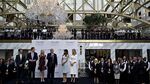 Shortly after Donald Trump won the presidential election, the U.S. official who oversees the lease of his signature Washington hotel offered Trump's company an assessment of a report about its potential conflict of interest: "Nonsense."
Four months later, the same official cleared Trump's company to keep its lease for the Trump International Hotel Washington DC. throughout the president's time in office -- a decision that may have saved Trump millions of dollars, based on a statement his lawyers made in a court filing in May.
One of Trump's companies operates the hotel in a building it leases from the federal government. Trump's election effectively put him in charge of his own landlord, the General Services Administration. The arrangement has drawn scrutiny from ethicists, lawyers and Democrats in Congress since November.
Kevin Terry, the GSA's contracting officer in charge of the hotel lease, referred to the issue in a Nov. 11, 2016, email to Trump's company, forwarding an article from the news site BuzzFeed that said his agency had acknowledged the potential conflict of interest.
"FYI - A fair amount of nonsense," Terry wrote. His email, which was obtained by Bloomberg News, went to two other GSA employees as well as to an executive with the Trump Organization, the umbrella group that oversees the president's various businesses.
Trump's Children
The name of the Trump Organization recipient was redacted on the email, which GSA released in response to a request from a member of the public under the Freedom of Information Act. The request, which was also obtained by Bloomberg News, sought communications between Terry and Trump's oldest children, Ivanka Trump and Donald Trump Jr. Ivanka Trump is now a top White House adviser to her father.
Terry didn't respond to a request for comment, nor did a GSA spokeswoman. Representatives for the White House and the Trump Organization also didn't respond to requests for comment sent Friday morning.
The Washington hotel, where Trump headlined the first fundraiser of his 2020 re-election campaign on June 28, has been a focus of criticism over ethical concerns surrounding his business interests. In addition to raising questions about Trump's presence on both sides of the lease, ethicists and liberal groups have said people might patronize the hotel to try to curry favor with the president.
Lobbyists for the Saudi government disclosed in June that they'd spent more than $250,000 on lodging and food at the hotel, and three lawsuits pending in federal court allege that foreign governments' spending there would violate the U.S. Constitution.
Arms-Length Transactions
While a constitutional clause bans officials from accepting gifts or payments from foreign governments, Trump's lawyers say it doesn't forbid standard, arms-length business transactions. They've pledged to donate the estimated income that Trump's hotel businesses earn from foreign governments to the U.S. Treasury.
Another issue regarding the hotel centered on language in its lease that appears to bar elected officials from participating in the agreement -- raising the question of whether Trump could retain his interest there as president.
"No member or delegate to Congress, or elected official of the Government of the United States or the Government of the District of Columbia, shall be admitted to any share or part of this Lease, or to any benefit that may arise therefrom," says the lease provision in question.
Trump's representatives argued that the president signed the lease three full years before his election. His lawyers said in a court filing in May that forcing him to give up his ownership interest "could result in enormous personal financial loss for the president." After signing the lease in August 2013, Trump's company spent more than $200 million renovating the building, which was formerly owned by the U.S. Postal Service.
In a decision released March 23, Terry determined that Trump's ownership didn't violate the lease terms, and his company was "in full compliance with the pact."
Money-Losing Start
Terry wrote that his decision was "based on my review of the lease, discussions with tenant, and documents submitted by tenant." Those documents said Trump himself would receive no income from the hotel while in office. Instead, the hotel will maintain any such earnings for its own business purposes, the correspondence said.
Critics say Trump will nonetheless benefit if the hotel succeeds. In its first two months of operation in 2016, it reported losing $1.2 million, according to a letter released in January by a group of congressional Democrats. Through April 15, the hotel reported $19.7 million of "hotel-related revenue" on the president's most recent financial disclosure.
Unlike predecessors, Trump hasn't divested from his far-flung business holdings or placed them in a blind trust. Instead, he transferred his ownership interests -- part of a net worth that Bloomberg has valued at roughly $2.9 billion -- into a trust overseen by his adult sons and a longtime employee of the Trump Organization.
Through that trust, Trump owns approximately 77 percent of the company that operates the hotel, according to documents filed with the GSA.
Review Sought
Soon after Terry's March decision was released, a coalition of ethicists, government-watchdog groups and liberal organizations wrote to GSA's inspector general asking for a review of the determination.
The inspector general's office has neither confirmed nor denied that it's conducting a review. On Friday, representatives of some of the groups that asked for one said Terry's November email would strengthen their case.
The email shows that "very early on GSA didn't take the potential of a conflict of interest very seriously," said Scott Amey, general counsel for the Project on Government Oversight, which signed the letter.
Another email released by the GSA in response to a FOIA request reveals a chatty, cordial relationship between Terry and a Trump Organization executive.
'Coffee Break'
On Nov. 16, 2016, Terry wrote: "Let me know when you need that coffee break," an apparent reference to an earlier canceled meeting.
"YES!" the Trump executive wrote in return. "I look forward to this raincheck. Will let you know when I am next in DC. Do you have any plans to be in NYC?"
Terry responded that he didn't plan to come to the city but mentioned a trip to Rochester, New York, for a hockey tournament.
It's not surprising that people who have worked together for a few years might develop a certain "chumminess," said Kathleen Clark, who teaches government ethics at the Washington University School of Law in St. Louis. But she said Terry's other email "would seem to demonstrate a cavalier attitude to the conflicts of interest."
Before it's here, it's on the Bloomberg Terminal.
LEARN MORE