markets
The Summer That Would Save Agrokor From Decay May Never Come
By and
Consumers desert Konzum brand for cheaper outlets such as Lidl

Agrokor to be dismantled, state-picked crisis manager says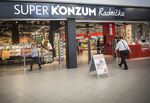 The annual invasion of tourists was supposed to offer a financial reprieve for the biggest retailer in scenic Croatia. Instead, this summer is shaping up as another source of grief in Agrokor d.d.'s spiraling crisis, which has threatened economies across the Balkans.
Agrokor needs the millions of foreigners who flock to Croatian resorts each year to spend money at its Konzum grocery stores, the group's biggest source of cash. Yet, even locals are abandoning the outlets, taking their business to competitors like Lidl, which in the past decade has built itself into a major force in the former Yugoslav country.

"I used to shop at Konzum, but now I find Lidl products to be better and cheaper," said Nebojsa Kovacevic, a plumber, before jumping on his Suzuki motorcycle and zipping toward the Lidl on the other side of a parking lot on the scrubby hills on the resort island of Krk.
His choice is emblematic of the peril facing Agrokor, once the mightiest conglomerate in the western Balkans that's now facing oblivion. If it was the arrival of rivals such as Lidl that undercut the company's finances in the first place, Agrokor's messy implosion this year has also been a turn-off for shoppers. Konzum's sales dropped 11 percent in the first five months from a year earlier, helping accelerate a skid that cut the value of Agrokor bonds more than 80 percent.
Read more: Agrokor's fight for survival, explained
The performance of Konzum stores this summer will be paramount as Agrokor enters a crucial stretch of restructuring. For years, the chain was the main grocery destination for millions of tourists on the 5,800-kilometer (3,600 miles) coastline of Croatia's archipelago every summer, giving the parent company a robust pipeline of cash.
Now, stronger competition and bad publicity are driving customers away, while the company's ability to respond is limited as a government appointee runs the overhaul and the demands of out-of-cash creditors and suppliers take precedence.

While putting a number on the problems has been complicated by Agrokor's admission that its past financial accounts are unreliable, retail brings in the vast majority of revenue, Konzum being the key brand. As Agrokor is getting by on emergency loans during its state-managed restructuring, it can't afford to lose customers. Supply-chain difficulties could leave it especially vulnerable in the peak tourist season, though the issues are far wider, said Goranko Fizulic, a former economy minister now working as an analyst.
"Konzum can't maintain its retail model, because this model is under siege," Fizulic said. "With its high business margin, its rent costs and the number of employees, Konzum can't compete with Lidl and others and it won't be able to keep its market share. This competition is even harder in summer months, when foreign tourists will buy at the stores they are familiar with."
Dismantling Agrokor
Ante Ramljak, Agrokor's government-appointed commissioner, acknowledged that the conglomerate will probably no longer exist in its current form once the 15-month state administration ends.
The Agrokor parent will be liquidated and its three segments -- retail, food and non-core -- sold to finance payments to bond holders sitting on near-worthless debt, banks and suppliers, Ramljak said in a June 13 interview in the boardroom once commanded by founder Ivica Todoric.
In its bid to muster support from more creditors for its restructuring plans, Agrokor extended a deadline for participation in its 530 million euro ($604 million) loan, according to people familiar with the matter who asked not to be identified because the talks are private. The original deadline expired on Friday.

At Agrokor's 21-story glass and steel headquarters in Zagreb, an entire floor is dedicated to the task of dealing with creditors' claim demands for credit.
In the meantime, the transformation is already under way. Konzum will close as many as 100 of its roughly 700 outlets in Croatia, Chief Executive Officer Slavko Ledic said June 21, according to the news website Dnevnik.hr. The retailer is adjusting its supply chain and will honor contracts, Ledic said, insisting that stores remain well-stocked.
Spillover Effects
The growth in Croatia's gross domestic product this year may be 0.8 percentage points lower in case of an Agrokor default, without taking into account spillover effects via its international network of subsidiaries, economists at Morgan Stanley said in a note to clients Monday. The bank nevertheless kept its baseline growth projection at 2.8 percent on expectations that strong tourism revenue will offset negative effects from Agrokor.
Economy Minister Martina Dalic vowed Ramljak will do "everything he can" to save jobs by redistributing employees from stores that will be closed, according to an interview with N1 TV on Sunday.
Ramljak traced some of the challenges to Agrokor's beginnings as a family-owned flower stand 40 years ago, saying it was still "run more as a mom-and-pop store than a modern corporation and completely mismanaged. How do you run such a company in such a way? It's impossible," he added.
There are 143 businesses under the Agrokor umbrella in various states of financial health across the former Yugoslav countries. Selling non-core interests, including a health clinic in Zagreb and four movie theaters in Belgrade, will take priority, Ramljak said. Food producers and farming holdings will be grouped or sold separately, he said, as will the Konzum and Mercator retail chains.
National Pride
"The company is so big and so important that it had a huge lobby and many decisions from politicians in the end enabled Agrokor to grow that big in the end," said Lutz Roehmeyer, who helps oversee 12 billion euros at Landesbank Berlin Investment GmbH. "I don't think Agrokor will stay in one piece. It will be splintered."
There is still debate about whether Konzum, which has a 30 percent market share in Croatia, should continue as a brand name the future, even with a new owner. Todoric himself is keeping out of sight at his castle on the slopes above Zagreb. He declined an interview request.
As government officials and creditors continue talks, residents are increasingly angry that Agrokor is receiving preferential treatment and worried they might have to pick up the tab.
For Jadranka Jakopovic, a chemical engineer who was walking out of the Lidl back on Krk, it doesn't much matter. Croatia has moved on as a capitalist country and nationalism over local brands is obsolete in a way Todoric no longer understands, she said.
"If Konzum disappeared tomorrow, it wouldn't hurt my national pride," she said. When asked whether she would be concerned for suppliers still owed money, or for the state of the economy, she said: "Only if the people have to pay the price. Citizens always pay in the end."
— With assistance by Boris Cerni, and Luca Casiraghi
(
Updates with Agrokor extending loan deadline under first subheadline.
)
Before it's here, it's on the Bloomberg Terminal.
LEARN MORE