markets
Qatar Defiance Fuels Stock Declines as Neighbors' Deadline Looms
By
Benchmark dropped the most in the Middle East on Sunday

Lender Qatar Islamic Bank contributed the most with loss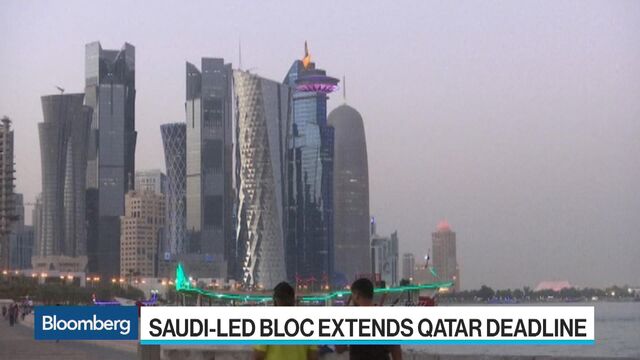 Qatari stocks fell the most in the Middle East as the rift with Gulf neighbors showed no sign of easing ahead of a crucial deadline.
The QE Index, which resumed trading after a one-week public holiday, declined as much as 4 percent after Foreign Minister Mohammed Al Thani said the Gulf emirate is prepared to miss a deadline tomorrow to comply with demands set by a Saudi-led group of nations, threatening to extend a blockade of its air, sea and land links they imposed a month ago.
The gauge pared its loss to 2.3 percent at the close, with Qatar Islamic Bank SAQ's 5.8 percent decline being the biggest drag.

Read More: Qatar Ready for Consequences of Blockade Showdown, Minister Says
Saudi Arabia, United Arab Emirates and other Arab nations cut commercial links with Qatar in June, saying they were isolating the sheikdom over what they see as its tolerant attitude to Iran and support for Islamist groups, spurring the biggest monthly drop in share prices since the oil selloff in January 2016. The group's demands also include Qatar severing relations with the Muslim Brotherhood and ending Turkey's military presence in the country. It was given 10 days to respond.
"In normal circumstances, it would be a great chance to buy on the dip," Nabil Al Rantisi, the managing director of Abu Dhabi-based Mena Corp. Financial Services, one of the biggest brokerages in the U.A.E., said on Bloomberg Television. "But with all the uncertainty happening with the Qatar situation at the moment, I think investors will stay skeptical" about buying stocks, he said.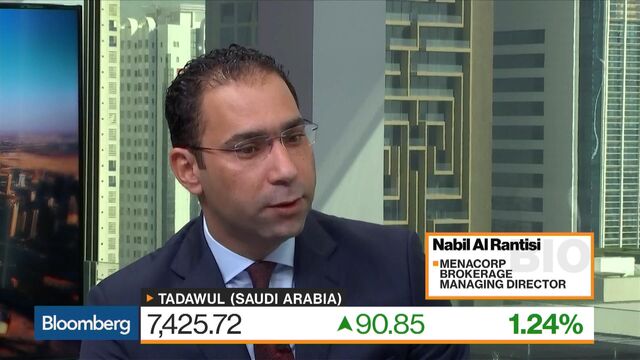 The sanctions have prompted Barclays Plc, Lloyds Banking Group Plc and Royal Bank of Scotland Group Plc to end the sale and buy-back of the Qatari riyal for consumers because of issues with a supplier, they said on Friday without providing details of the third party. This will maintain pressure on Qatar's currency for the next few days, Rantisi said.
"You don't know how this is going to keep on escalating in the upcoming few weeks," Rantisi said.
Lenders Masraf Al Rayan QSC and Qatar National Bank fell 2.3 percent and 1.2 percent, respectively, and Doha Bank dropped 4.9 percent. Along with Qatar Islamic Bank, the companies represent about 40 percent of the index. The gauge is down 15 percent this year.
— With assistance by Tracy Alloway, and Yousef Gamal El-Din
Before it's here, it's on the Bloomberg Terminal.
LEARN MORE