business
Macron Says France to Provide Combat Support for Sahel Force
By , , and
France pledges tactical vehicles, money for five-nation unit

Faster implentation needed for Mali peace accord, Macron says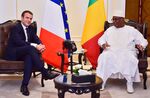 France has pledged combat support and money for a West African force gearing up to fight a surge in Islamist militant attacks, even as leaders admitted full funding isn't yet secured.
French President Emmanuel Macron offered the aid at a meeting in Bamako, Mali's capital, on Sunday with the leaders of Mali, Burkina Faso, Niger, Chad and Mauritania, whose governments each plan to provide a battalion of 750 soldiers for the unit. The main area of operation will be the border area of Mali, Niger and Burkina Faso, where French troops this year killed at least 20 suspected militants hiding in a forest.

"Our challenge is to get the command up and running, not just on the financing but also on operations," Macron said after the summit. "I hope it's a matter of weeks, because we need rapid results to be credible." France's support will be via "advice, material and combat," he said.
The United Nations Security Council unanimously approved a resolution last month that welcomed the force without making a request for funding, effectively leaving the five countries to fend for themselves. While France says the force is urgently needed, U.S. President Donald Trump's administration withheld support for a stronger resolution because it wants to cut spending on UN operations. Even so, French officials say U.S. forces in Africa continue to provide intelligence and logistical support.
Tactical Vehicles
France will provide 70 tactical vehicles and 8 million euros before the end of the year, Macron said, as well as the combat support for the 4,000 troops it has in the region. The European Union said it will contribute 50 million euros ($56 million), and Mali President Ibrahim Boubacar Keita said the five African countries will kick in 10 million euros each.
The contributions cover only a quarter of what's needed. Keita said the mission will cost 423 million euros, and French officials say they'd like other European governments to contribute directly to supporting the force, which is supposed to be operational by the end of summer.
Macron also said France would provide 200 million euros in development assistance to the Sahel, a semiarid region stretching along the southern end of the Sahara, over the next five years.
Most of the militant attacks in the Sahel region originated in Mali, which was nearly overrun by an alliance of separatist and Islamist insurgents until the French military intervened in 2013. France has since kept troops in the region to hunt down militants, while the UN has more than 13,000 peacekeepers in Mali.
Macron also hinted at French impatience with the slow pace of implementing a political accord between Mali's government and insurgents based in its desert north. "Security efforts without political engagement isn't durable," Macron said. "You must redouble your efforts, and we will accompany you." The UN also has criticized the slow progress.
Keita pledged at the press conference to implement the Mali peace accord.
In neighboring Niger, the U.S. is building a runway that can be used for drones and large military aircraft. Germany has also increased its military operations in West Africa.
(
Updates with Macron press conference, more financing details starting in third paragraph.
)
Before it's here, it's on the Bloomberg Terminal.
LEARN MORE