Five Things You Need to Know to Start Your Day
Get caught up on what's moving markets in Asia.
By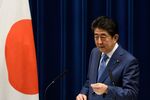 Want to receive this post in your inbox every morning? Sign up here.
Tokyo elections bring bad news for Abe, China-Hong Kong bond link begins, and Qatari stocks hit the skids. Here are some of the things people in markets are talking about.
Big Blow to Abe
Japanese Prime Minister Shinzo Abe is reeling after his Liberal Democratic Party was trounced in the Tokyo elections by an upstart party — named Tokyo Residents First — led by one of the LDP's former members, Governor Yuriko Koike. An exit poll projects that the LDP will hold its lowest number of seats ever in the Tokyo assembly, potentially eliciting a cabinet reshuffle by the prime minister and lending support to rivals within the party who are looking to unseat their leader. Due to a cronyism scandal, Abe's party had been suffering in the polls ahead of this vote. These results could spell trouble for the LDP ahead of next year's general election; in 2009, a similar defeat in the Tokyo vote was the harbinger of a major loss at the national level shortly thereafter. U.S. President Donald Trump is scheduled to speak with Abe early on Monday morning.
China's Connections
The China-Hong Kong bond connect will launch on Monday, a move that opens up China's capital markets to the rest of the world and provides foreign investors with another way to gain exposure to Chinese debt. Inflows could be just what the doctor ordered for the yuan, which is facing a period of seasonal weakness as China Inc.'s demand for foreign currency accelerates to pay out dividends overseas. And speaking of Hong Kong-China connections, President Xi Jinping warned the city that it should seek to profit from — not defy — the powerhouse during his swearing-in of Carrie Lam as chief executive on Saturday, a ceremony which capped off a trip that marked the 20th anniversary of Hong Kong's handover from Britain to China.
Qatar's Consequences Await
Qatar's main bourse declined as much as 4 percent on Sunday ahead of Monday's deadline to comply with a list of demands from the Saudi-led alliance that's blockaded the emirate since June 5. Foreign Minister Mohammed Al Thani said Qatar won't comply with the bloc's requests and is "ready to face the consequences." A delegation from Qatar will attend the Arab Parliament three-day meeting in Cairo that begins tomorrow, according to a state-run news network. In related news, Iran — Qatar's key ally in the region — is on track to sign a formal contract with energy giants Total SA and China National Petroleum Corp. on Monday to develop its portion of the world's biggest natural gas field, which it shares with embattled Gulf nation.
PMI Day
It's time for the June update on the state of manufacturing around the world. China's Caixin purchasing managers' index is expected to edge up to 49.8, a level that points to modest contraction in the sector. The official gauge of manufacturing activity in the world's second-largest economy unexpectedly improved to 51.7  in June, with the new export orders sub-index hitting its highest level in more than five years. For the Asia Pacific region, PMI reports for Japan, South Korea, India, Vietnam, Indonesia, Taiwan, and Thailand will be released. Also on deck: Japan's Tankan manufacturing and non-manufacturing surveys as well as Australia's AiG manufacturing index for June and May's update on building approvals.
BOJ Exits?
The yen is strengthening in early trading Monday amid the Tokyo election results and commentary surrounding the future of the Bank of Japan's policy and personnel. Principal Global Investors, which manages more than $424 billion, believes the central bank may be forced to discuss an exit from its unprecedented monetary easing program before the year is out. Governor Kuroda didn't join the chorus of central bankers at the ECB's forum last week who signaled policy normalization was coming soon. As for Kuroda himself,  Nobuyuki Nakahara — one of Abe's advisers and a former BOJ board member — said the current central bank chief shouldn't serve another term.
What we've been reading
This is what caught our eye over the last 24 hours.
Before it's here, it's on the Bloomberg Terminal.
LEARN MORE