Another IMF Deal Isn't a Sure Thing for Serbia, Premier Says
By and
Stringent IMF programs can hinder growth, Brnabic says

No decision yet on Eurobond as there's liquidity in the budget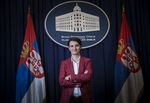 Serbia is focused on wrapping up its IMF program this year and will evaluate the implications for economic growth before seeking another, the country's new prime minister said.
Ana Brnabic, a U.S. and U.K.-educated political newcomer, said she'll continue pursuing a plan to overhaul the country's public administration started by President Aleksandar Vucic, who she replaced after he became president. When asked if the country of 7.1 million may forgo renewing the three-year precautionary deal, during which International Monetary Fund officials have recommended measures including cutting spending, selling or shutting down unprofitable state companies, and reducing the public workforce, she said "it's possible."
Speaking on her first full day in office, Eastern Europe's first openly gay woman to lead a government said she wants to accelerate economic growth to 4 percent over the next two years from 3 percent in 2017. She's facing an uphill battle after the economy slowed its expansion to 1.2 percent in the first quarter from a year earlier. Now she's considering whether the benefits of a new IMF deal outweigh the Washington-based lender's stringent oversight.
"It's obviously good to have someone who's giving you tempo, the pace of reforms, with whom you are discussing the priorities, and all of that is a big, big pro,'' Brnabic said in her office in Belgrade on Friday. "But sometimes the IMF is more stringent than is necessary, and in that respect, it is possible that a new deal hinders growth.''
Brnabic said her government would seek to cut 11,300 jobs in local administrations through 2020, including 2,500 this year, as the country overhauls its public administration and retools state finances. That's in addition to 80,000 jobs Vucic eliminated mostly through attrition from local governments and state-run enterprises since 2013, she said.
The dinar weakened 0.12 percent to 120.5452 against the euro at 9:00 a.m. in Belgrade, according to data compiled by Bloomberg. The yield on Serbian dollar bonds maturing in 2021 rose two basis point to 3.303 percent.
Discussing, Deciding
After narrowing one of Europe's highest budget shortfalls three years ago to less than a third in 2016, the Balkan state's public finances are in better shape. Brnabic said her team is still "discussing and deciding'' whether or not to sell a new Eurobond this year as "the local market conditions are good and the liquidity of the budget is very good.''
"2016 was our first year with a primary surplus, but still, huge amounts of money went to pay interest" on expensive loans, Brnabic said. "So I think 2018, next year, will be the year when we can expect that interest rates will be significantly lower."
With an IMF mission currently visiting Belgrade to assess progress on structural reforms, Serbia is "100 percent focused on passing the seventh review,'' and hopes to conclude the program by year-end, she said. The fund praised Serbia's progress in March but said "a lot remains to be done."
'Difficult Tasks'
One of the biggest challenges the government is still working on is a pledge to sell or close scores of money-losing companies that drained about $1 billion a year from the state budget as recently as last year. Some of them are now being restructured and advisers are still being sought for others, Brnabic said.
Serbia must also pass a law on local administrations -- some of which she said had five times more employees than they needed just four years ago -- and fix the way state salaries are paid.
"We still have some very, very difficult tasks to fulfill by the end of the year,'' Brnabic said.
Before it's here, it's on the Bloomberg Terminal.
LEARN MORE