Qatar Ready for Consequences in Bloc Showdown, Minister Says
By
Al Thani says nation to defend sovereignty with Saudi-led bloc

Demands seek to impose censorship on Qatar, Al Thani says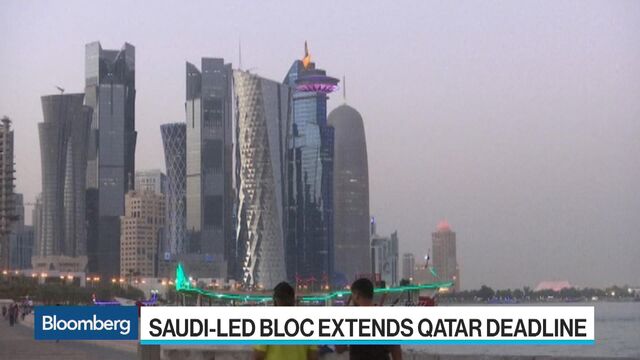 The Qatari government, under a Saudi-led blockade of its air, sea and land links, is unwilling to concede any demands that threaten its sovereignty or violate international law, said Foreign Minister Mohammed Al Thani. Qatari stocks fell.

The small Gulf emirate is prepared to let pass the deadline for complying with 13 demands set down by the bloc, including shutting the Al Jazeera television network and cutting back ties with Iran, he said Saturday in Rome, where he met with his Italian counterpart.
"There is no fear from our direction. We are ready to face the consequences," Al Thani said. "There is an international law that should be respected and not violated."
Qatari stocks declined as the rift showed no sign of easing head of a crucial Monday deadline. The QE Index, which resumed trading after a one-week public holiday, lost 1.8 percent as of 9:48 a.m. in Doha, led by Industries Qatar QSC's 2.6 percent loss.
Al Thani repeated that Qatar is willing to sit down and negotiate under the right circumstances. The ultimatum issued June 23 was made to be rejected, he said.
Saudi Arabia, Bahrain, the United Arab Emirates and Egypt severed commercial links with Qatar almost a month ago, saying they were isolating the sheikdom over what they see as its tolerant attitude to Iran and support for Islamist groups. The group's demands also include Qatar severing relations with the Muslim Brotherhood and ending Turkey's military presence in the country. Qatar was given 10 days to respond.
Why the Qatar Crisis Defies Rapid Resolution: QuickTake Q&A
Al Thani, in turn, accused the blockading nations of having ties to groups and individuals accused of terrorism.
"As for the countries that accuse Qatar of financing terrorism, they have the same problems as Qatar, more so, they are on top of the list in that area," he said. "There are financial institutes in these countries involved in financing terrorist organization and financing terrorist operations in western countries."
The coalition presented Qatar with its requirements to end the standoff after U.S. Secretary of State Rex Tillerson urged the Saudi-led bloc to lay out its demands. In a statement on June 25, Tillerson conceded that Qatar would find it "very difficult" to comply with some of the requests.
On June 27, during a visit in Washington, Saudi Foreign Minister Adel al-Jubeir called the demands non-negotiable.
— With assistance by Luiz Felipe Corti Pachon
Before it's here, it's on the Bloomberg Terminal.
LEARN MORE