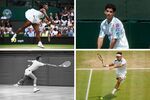 Women's Draw
The big news on the women's side, we thought, was Maria Sharapova's return, but she's out with a thigh injury. Seven-time winner Serena Williams isn't competing either, because of her pregnancy. This could provide an opening for the Czech Republic's Karolina Pliskova, who won a Wimbledon warmup last year and has, at age 25, reached No. 3 in the world with an attack style of game that works on grass. Venus Williams, who's reached eight Wimbledon finals, is playing top-10 tennis again at age 37. The young American Madison Keys plays with a similar go-big approach, though she's struggled this year coming back from wrist surgery. Britain's Johanna Konta has one of the biggest serves in the women's game—big serves lose little pace when they bounce off grass—and so far in 2017 she's playing top-five tennis. Then there's Victoria Azarenka, just back from maternity leave and often at her best when Serena Williams isn't looming.
Men's Draw
Like Serena Williams, Roger Federer has won seven Wimbledon titles, and he's in the midst of a remarkable resurgence. The 35-year-old won the Australian Open this year and dominated the hard courts early on. He skipped the clay court season to recover from a knee injury and appears fully focused on hoisting the silver cup again. Recent winners Andy Murray and Novak Djokovic have struggled lately with health and confidence; they're Wimbledon champions, though, and not to be counted out. Rafael Nadal's knees don't like grass, but he's coming off a dominant clay court season that, in the past, has carried over to turf. If there's a younger player with a shot, that would be Nick Kyrgios. Three years ago, playing Wimbledon for the first time, he stunned then-world No. 1 Nadal in the fourth round. But Kyrgios took a nasty spill in June at Queen's Club and reinjured his hip. It's unclear if he'll be in top form when the tournament begins.
Doubles
Pop quiz: Who's the top-ranked American player heading to London? That would be 32-year-old Bethanie Mattek-Sands. She and Lucie Safarova of the Czech Republic make up the world's No. 1 women's doubles team. As for the men, expect a strong showing from Murray's older brother Jamie Murray, who with Bruno Soares of Brazil finished last year ranked No. 1. And don't forget Nicolas Mahut. The Frenchman will always be remembered at Wimbledon for his 11-hour-long match against the American John Isner in 2010—the longest in history. Mahut is a terrific doubles player, and whomever he partners with at the championships will be worth following.
Before it's here, it's on the Bloomberg Terminal.
LEARN MORE