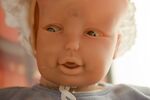 Robots are seen as an inescapable part of our future, whether you're Jeff Bezos romping around in a giant mechanical suit or Barack Obama warning that humans are at risk of being automated out of a job. So, as with lots of cutting-edge stuff, people are throwing money at the industry. Funds that invest in robot tech are attracting record inflows.
Yet the parallel rise on financial markets of cheap tracker funds such as ETFs, which follow trends and particular sectors—like robotics—has created some strange distortions that may be helping to support bubble-like valuations for companies with certain products.
The humble vacuum cleaner is one such oddity.
A first port of call for any general investor wanting to invest in our future robot overlords might be the ROBO ETF, designed to track the performance of the Robo Global Index. This U.S. ETF has attracted inflows of $514.1 million so far this year and risen 20 percent in value, according to Bloomberg data, outperforming the S&P 500 and the tech sector. Clearly its owners have cause to be happy.

But how truly leading-edge is this fund? Its top holding is iRobot, which despite the name is more Martha Stewart than Isaac Asimov. The company makes household robots that mop floors and vacuum carpets, like the Roomba. They obviously do the job well, judging by Amazon reviews.
Still, you'd have to ask whether iRobot has as much in common with other robotics firms such as Daifuku or Fanuc—also held by ROBO, though to a smaller degree—as it does with appliance-makers like Whirlpool or Electrolux. Old-school manufacturers make robot vacuums too, as shown by iRobot's patent lawsuit against Black & Decker, Hoover and others.

This isn't just an academic distinction. iRobot shares trade on more than 55 times expected earnings, several orders of magnitude higher than Electrolux's 16 times or Whirlpool's 12.5 times.
There may be a sensible explanation for this: iRobot's revenue is projected to grow 20 percent this year and its gross margin is almost 50 percent. But some of the premium might also come from ETFs chasing the stock. About 14 percent of iRobot is owned collectively by ETFs targeting themes such as tech, small caps and home improvement. That's much bigger than the 2.5 percent of Electrolux held by ETFs, or Whirlpool's 7.1 percent.

This chimes with a recent study suggesting that higher ownership of an individual company stock by ETFs makes the shares more expensive and more detached from their fundamental value. University researchers found a single percentage-point rise in ETF ownership strengthens a stock's correlation with the industry group ascribed by those funds, while weakening the relationship to its own expected earnings. So it matters who you're lumped in with.
Maybe we read too much into the distorting power of ETFs. Stock-pickers and research analysts still have a lot of clout. Mutual funds own a collective 43 percent of iRobot, for example, and most analysts covering the stock are comfortable enough to rate it a "Hold." Robo Global's Jeremie Capron says excluding iRobot from a robotics fund would mean investors missing out on a sector bellwether in a promising market.
Yet slicing up public markets for passive consumption might still be taking on a life of its own. It is creating ETF "darlings" that behave differently to the rest of the market, according to Vincent Deluard, strategist at financial services firm INTL FCStone. The rise of the robot vacuum cleaner might depend on many things, but passive money does seem to have a lot of suction.
Before it's here, it's on the Bloomberg Terminal.
LEARN MORE