Deal Snapshot
Who Would Buy Takata's Air Bag Business?
Ningbo Joyson, for $1.6 billion, as China pushes to become a serious car maker. Here's a snapshot of the deal.
By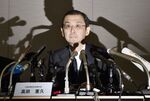 Deal Snapshot provides a pithy summary of a significant corporate acquisition, sale, or transaction. This week: a look at the Chinese automotive company that's using its purchase of troubled Takata to further its global ambitions.
Takata Corp.
Buyer: Ningbo Joyson Electronic Corp., Chinese auto parts manufacturer
 
Price: $1.6 billion
 
As part of Takata's June 26 bankruptcy—spurred by the biggest global automotive recall ever—Ningbo Joyson's U.S.-based unit, Key Safety Systems, is buying Takata's troubled air bag business.
What It Does
The deal will make Ningbo Joyson the world's No. 2 maker of air bag components, bolstering China's ambition to become a major force in car manufacturing. It would be the biggest acquisition in Japan by a Chinese-backed company and the second-largest auto-industry buyout by a Chinese company. "China boasts of a big domestic market, and that's an advantage. But in the auto industry the most advanced technologies are still in countries such as Germany, Japan, and [the] U.S," says Ningbo Joyson Electronic Chairman Wang. 
Avoiding Recall Costs
Key Safety will take Takata's operating assets with no liability for its 100 million previously manufactured air bag inflators, whose recall could cost $9 billion, according to Jeffries Group LLC. Those costs will fall on bankrupt Takata.
Big Growth Plans
Ningbo Joyson Chairman Wang Jianfeng, who earlier bought German and U.S. parts makers, aims to double sales to $10 billion by 2021.
What's Next
By combining safety and auto-tech companies on three continents, Ningbo Joyson will be better able to sell packages of components for driverless vehicles and electric cars.
Before it's here, it's on the Bloomberg Terminal.
LEARN MORE