Walgreens Gets Bigger While Rite Aid, Fred's Pick Up the Pieces
By and
Revised deal gives Rite Aid cash to pay debt as sales erode

Fred's had ambitions to get much bigger fast, but must reset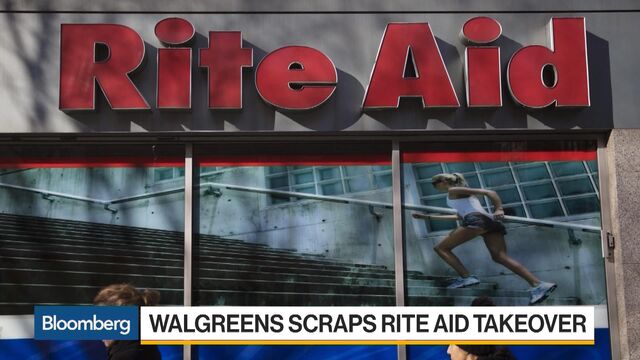 Pharmacy giant Walgreens Boots Alliance Inc. will soon be bigger -- and a pair of smaller rivals could be left with bigger headaches.
Rite Aid Corp., the distant No.3 U.S. pharmacy operator, agreed to a slimmed-down deal to sell 2,186 stores to Walgreens, the No. 2, after an earlier plan to merge the two businesses looked unlikely to pass muster with U.S. regulators.
The new transaction unveiled on Thursday would see a little less than half of Rite Aid's stores sold to Walgreens -- and still must be reviewed by the same officials who balked at the old, now-scrapped takeover. The pact would give Rite Aid a trove of cash to pay down debt and reposition the company in a market crowded with deep-pocketed, diversified rivals.
For regional pharmacy chain Fred's Inc., the road back could be tougher. Under the busted Walgreens-Rite Aid pact, Fred's would have gained as many as 1,200 stores. Now it faces an even more daunting competitive landscape than Rite Aid, which is likely to lean on its pharmacy-benefits management business as it refashions itself.

Both Rite Aid and Fred's fell sharply after news of the more modest Walgreens deal emerged. Rite Aid shares slid as much as 30 percent, the most since December 20, 2007, trading at $2.89 as of 3:30 p.m. in New York. Fred's shares sank as much as 27 percent, the most since its 1992 initial public offering.
Reaching a deal that is more limited in scope is a better outcome for Rite Aid than if its initial deal with Walgreens had collapsed entirely, analysts said.
"It really gives them a lifeline whereas there probably wasn't one if they had just gotten the deal scuttled and there was no transaction," Bloomberg Intelligence analyst Jonathan Palmer said. "I don't think it's an easy path forward for them but it's certainly an easier path than stand-alone Rite Aid with the mountain of debt."
Rite Aid has almost $7.2 billion in long-term debt, according to its balance sheet for the quarter ended June 3. After selling the stores to Walgreens, Rite Aid's ratio of debt to earnings before interest, tax, depreciation and amortization will be around 4.8 times, according to Mizuho Securities USA LLC analysts. The asset sale, if approved by regulators, would leave Rite Aid as a regional chain with concentrations of stores on the West Coast, Michigan, Ohio, Pennsylvania, and New Jersey.
"The transaction will transform Rite Aid into smaller but stronger company that will have less exposure to the pharmacy reimbursement rate pressures that have had such a negative impact on our business," said John Standley, Rite Aid's chief executive officer, on a conference call with analysts.
Stuck in the Middle
Rite Aid said on Thursday that revenue declined 4.9 percent in the fiscal first quarter ended June 3 to $7.8 billion, from $8.2 billion the previous year. Same-store sales decreased 3.9 percent. The company posted a net loss of 7 cents a share after essentially breaking even in the previous year.
"They are going to struggle unless they get more scale," said Adam Fein, president of Pembroke Consulting, which advises drugmakers on sales and distribution.
Rite Aid "is kind of stuck in the middle" between the two big national chains -- Walgreens and no. 1 CVS Health Corp. -- and small independent pharmacy chains, Fein said. As a result, it has trouble competing for placement on narrow pharmacy networks that health plans and pharmacy-benefit managers have been increasingly putting into place, Fein said, and getting smaller won't do anything to solve this problem.
With less debt, the remaining parts of Rite Aid could be attractive to private-equity buyers, Fein said. Rite Aid could also try to buy Fred's, which has stores in the South, where Rite Aid will have few stores left if the asset sales go through.
Obstacles Remain
The pared-back deal with Walgreens still has to win the approval of regulators, which isn't a given. There's a higher chance that this deal goes through than the last one, said Palmer of Bloomberg Intelligence, but he didn't think it was a "slam dunk."
The Federal Trade Commission will examine Rite Aid's ability to compete and whether it will be a true constraint against a bigger Walgreens, said Andrea Agathoklis Murino, an antitrust lawyer at Goodwin Procter in Washington. The agency won't want to see Rite Aid become a "a shell of itself" after the sale, she said.
"They can't create a situation where the remaining Rite Aid stores, whatever that looks like, are not going to be competitively significant," she said. "There will certainly be serious questions that Rite Aid has to respond to about how they will be a viable competitive entity in those areas where they compete with Walgreens."
'Disappointing' Collapse
Fred's Chief Executive Officer Michael Bloom said the collapse of its planned store purchases was "disappointing" but "the termination of the transaction has no impact on the company's transformation strategy or our ability to execute." A Fred's spokesman declined to comment.
Analysts said that the Rite Aid deal would have given Fred's greater negotiating power and diversified its store base beyond small rural towns where the business isn't growing.
"There was a good portion of the investment community that thought that Fred's had a real opportunity to turn those divested Rite Aid stores into a decent-sized chain, which technically would've been the third largest chain in the country," Nicholas Mitchell, an analyst at Northcoast Research, said. "It provided a solution overnight to expand the footprint."
— With assistance by David McLaughlin
Before it's here, it's on the Bloomberg Terminal.
LEARN MORE