markets
U.S. First-Quarter Growth Revised Up to 1.4% on Consumption
By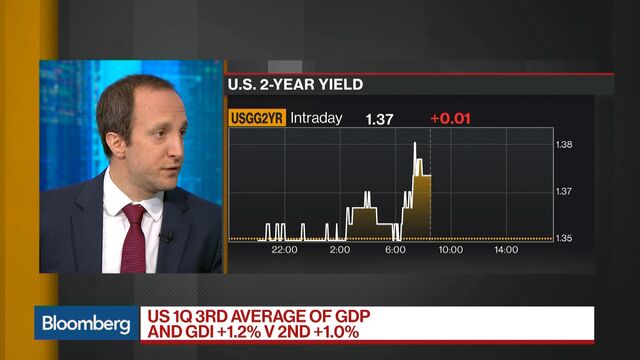 The U.S. economy's first-quarter growth was less tepid than previously reported, as consumer spending and trade added more to expansion, Commerce Department data showed Thursday.
Highlights of First-Quarter GDP (Third Estimate)
Gross domestic product rose at 1.4% annualized rate (forecast and previous estimate were 1.2%)
Consumer spending, biggest part of the economy, rose 1.1% (forecast and previous estimate were 0.6%)
Exports grew 7%, revised from 5.8%
Key Takeaways
While the revision was more positive than most analysts anticipated, the report still underlines a relatively weak start to the year, with consumer spending growing at the slowest pace since 2013. Weather and other temporary factors in the period, along with rising wages and salaries, support the idea of a consumer-led rebound in the second quarter. Federal Reserve policy makers raised interest rates earlier this month, seeing the first-quarter slowdown as transitory as the labor market improves further.
The Commerce Department attributed the latest upward revision to spending data for financial services, insurance and health care. Exports of industrial supplies and materials were higher than previously reported, boosting trade's contribution to expansion in the period.
Analysts estimate the U.S. economy will grow at a 3 percent rate in the April-to-June period, though the slowdown in equipment orders and shipments reported earlier this week raises the risk that business investment will provide less of a boost than anticipated. Cooling automobile sales and a housing sector limited by a scarcity of affordable homes also remain headwinds for the economy this year.

Other Details
Inventories subtracted 1.11 percentage point from growth in January through March, compared with prior estimate of 1.07 percentage-point drag
Net exports added 0.23 percentage point to GDP growth, revised from addition of 0.13 point
Stripping out inventories and trade, two most volatile components of GDP, so-called final sales to domestic purchasers increased at 2.3 percent rate, revised from 2.1 percent
Nonresidential fixed investment, or spending on equipment, structures and intellectual property, rose at a 10.4 percent annualized pace, revised from 11.4 percent; still the fastest in five years; adjustment reflects construction-spending statistics
Health-care spending revised up to 0.27 percentage-point contribution to growth, from 0.1 point; spending on financial services and insurance added 0.33 point, revised from 0.12 point
Real disposable personal income rose at unrevised 1.7 percent pace
Corporate profits gained 3.3 percent from a year earlier, revised from 3.7 percent
GDP report is the third of three estimates before annual revisions in July
— With assistance by Chris Middleton
Before it's here, it's on the Bloomberg Terminal.
LEARN MORE