China Says Trump's Taiwan Arms Sale Undercuts Early Goodwill
By and
$1.3 billion package includes radar maintenance, torpedoes

List sent to Congress stops short of Taiwan's hope for F-35s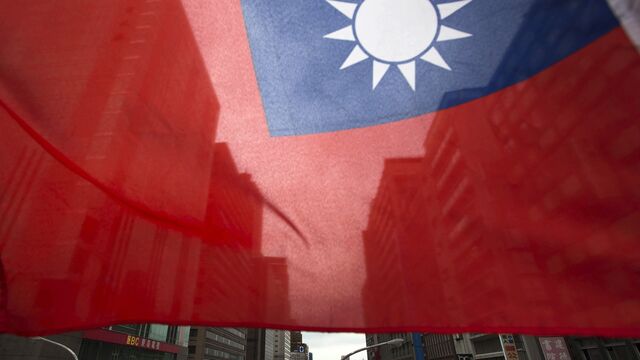 China protested President Donald Trump's proposal to sell $1.3 billion in arms to Taiwan, saying the deal ran counter to early pledges for cooperation between the two sides.
The arms package -- the first sent to Congress by Trump -- includes early-warning surveillance radar, anti-radar, air-launched missiles and naval torpedoes. Still, the proposal was smaller than many past deals, such as a $5.9 billion deal offered by then President Barack Obama in 2011, and didn't include Lockheed Martin Corp.'s F-35 fighter jet or other advanced weapons that Taiwan wanted.
The proposed sale was the latest sign of growing U.S. frustration with Beijing as the glow from his introductory April meeting with Xi Jinping in Florida begins to fade. The move came the same day as the U.S. announced sanctions against a Chinese bank and shipping firm accused of funneling goods and money to North Korea. Earlier in the week, a U.S. human-trafficking report listed China among the world's worst offenders.
"These actions show some forces in the U.S. don't want to see a healthy development of the China-U.S. relationship and don't want to see a strong China," Cui Tiankai, China's ambassador to the U.S., told reporters Thursday at a reception in Washington. "What the U.S. government did is against the spirit and the consensus of the first leadership meeting in April."


The arms sale comes at a particularly sensitive time for Xi, who must project strength ahead of a Communist Party reshuffle that will determine his influence into the next decade. U.S. arms sales to Taiwan, which China considers a breakaway province to be reunited with the mainland, have previously led Beijing to cut off exchanges.
Trump shocked officials in Beijing before taking office by accepting an unprecedented phone call in December from Taiwanese President Tsai Ing-wen. He later reaffirmed U.S. support for the long-standing policy recognizing both sides as part of "One China."
Taiwanese Presidential Office spokesman Alex Huang said via text message that the deal gave the island more confidence about maintaining its own defense. "We will strengthen our defense industry and research and development to show our determination to defend ourselves," Huang said.

The Taiwanese government has cited concern about China's growing capacity to blockade or invade its outer islands to justify efforts to acquire more modern fighter jets and build its own submarines. Taiwan expects to spend NT$356 billion ($11.7 billion) on defense this year -- a tiny fraction of China's.
The U.S., which supported Taiwan after its civil war split with the mainland, provides the island a military protection umbrella under a 1979 law requiring America to defend Taiwan from a Chinese attack. No U.S. president has agreed to sell advanced fighter jets to Taiwan since George H.W. Bush in 1992.
Raytheon Co. would be a prime beneficiary of the new package. The company could sell Taiwan 56 of its AGM-154C JSOW stand-off, air-launched glide missiles, valued at $186 million; 60 of its HARM anti-radar missiles, valued at $148 million; and 46 of its Mk-48 Advanced Technology heavy torpedoes, valued at $250 million.
The proposal also includes upgrades to Taiwan's AN/SLQ-32(V)3 ship electronic-warfare systems, valued at $80 million, for four Kidd-class destroyers; $125 million in Standard Missile-2 air-defense weapons and upgrades; and $175 million to upgrade 168 Mk-46 torpedoes to MK-54 versions.
Taiwanese Lawmaker Jason Hsu, a member of the Foreign and National Defense Committee, praised the deal while acknowledging that it fell short of the island's wishlist.
"It may not be an ideal list, as it's short of F-35, F-16 C/D fighter jets or submarine-related items," Hsu said. "However, it's still a commitment from the U.S."
— With assistance by Adela Lin, and Keith Zhai
Before it's here, it's on the Bloomberg Terminal.
LEARN MORE