Politics
Jeff Sessions Is Dismantling Obama's Legal Legacy
Recusal from the Russia probe has freed the U.S. attorney general to rearrange Justice Department priorities.
By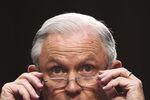 In mid-May, as the Russia investigation reached new heights with the firing of FBI Director James Comey and the eventual naming of Robert Mueller as special counsel, Attorney General Jeff Sessions was going about his business as the nation's top law enforcement officer. Having recused himself from the Russia probe two months earlier, he spent those two weeks in May, among other things, issuing stricter charging policies for prosecutors and speaking at an antidrug conference in West Virginia, where he blamed Mexican cartels and porous borders for the opioid epidemic.
Under normal circumstances, the U.S. attorney general would be deeply involved in any investigation of a foreign power interfering in domestic affairs. But with the country fixated on all things Russia, Sessions's recusal has allowed him to implement his tough-on-crime agenda and dismantle large parts of President Obama's legal legacy without creating big headlines. Since taking over the U.S. Department of Justice on Feb. 9, Sessions has made more than a dozen changes affecting almost all facets of federal law enforcement. His priorities are clear: violent crime, drugs, and immigration. Although the proposed budget for the department includes $1 billion of cuts overall, Sessions has asked for an extra $26 million to hire 300 prosecutors devoted to gang violence and deportation cases.
Some of his most notable moves have involved rolling back Obama's more lenient approach to punishing criminals. He's reinstated tougher sentences for nonviolent drug offenders, ordering prosecutors to go for the harshest penalties allowed under the law. That puts him at odds with a growing consensus among Democrats and even some Republicans that jailing drug addicts is counterproductive.
In April, Justice began a review of its prior settlements with troubled police departments, a significant piece of Obama's response to allegations of police bias and excessive use of force. Sessions tried to stop a judge from signing off on a settlement agreement that put the Baltimore police department under federal supervision because of its past treatment of minority suspects. When his request was rejected, Sessions issued a rebuke. He later wrote an op-ed in USA Today warning of the consequences of "handcuffing the police."
In February, Sessions withdrew a Justice Department claim that Texas intentionally discriminated against minorities with a voter ID law that the federal government sued to block in 2013. He's asked Congress to consider lifting a legal barrier to prosecuting people for using medical marijuana. And he's restored the government's use of private prisons, which Obama moved to phase out last year.
Whether he's speaking to police at the Mexican border or lawyers in Washington, Sessions's message is the same: Crime is on the rise, and after eight years of not feeling supported by the Obama administration, police and prosecutors need to be re-­empowered. "This is a new era," he told a group of police chiefs at a conference in Arizona in April. "This is the Trump era. The lawlessness, the abdication of the duty to enforce our immigration laws, and the catch-and-­release practices of old are over."
He's been pursuing this agenda his whole career. Before spending the past 20 years in the Senate, where he focused on strengthening federal crime policy, Sessions was Alabama's attorney general for two years. Before that he spent 14 years working in the U.S. attorney's office for the Southern District of Alabama, where he gained a reputation for targeting drug offenders and pushing for maximum penalties. This was at a time when violent crime hit historic levels. Despite a recent uptick in violent crime, national crime rates remain near a 20-year low. Yet Sessions hasn't changed his message.
"This is just who Jeff Sessions is. He's still fighting the war on drugs, so he's falling back on remedies from the '80s and '90s that most of the criminal justice world has moved beyond," says William Yeomans, who spent 26 years as a Justice Department civil rights lawyer and later was Senator Ted Kennedy's chief counsel on the Senate Judiciary Committee. "My overall take is that there's nothing surprising about what he's done. He's implementing the agenda that he's been talking about for years in the Senate."
To conservatives, Sessions is simply returning the department to its traditional role of taking a hard line on violent criminals. "By and large the Department of Justice functioned with the same set of policies from one administration to another," says Paul McNulty, a deputy attorney general under George W. Bush. "During the Obama administration, the Justice Department for the first time took a more aggressive stance on things that were important to the president."
Rearranging priorities is a normal part of the attorney general's job, especially when the presidency changes parties. In 2009, Eric Holder, Obama's first attorney general, spent several months trying to undo certain elements of the Bush administration's war on terror. He attempted to close the prison at Guantanamo Bay and sought to try more terrorism suspects in U.S. courts; both efforts failed. Sessions has had more success early on than Holder. Part of that, though, is the nature of the work, Yeomans says. "It's easier to stop doing things," he says. "It's easy to change your position in court. It's much harder to go out and develop voting rights cases, to go out and develop discrimination cases."
Sessions has also pushed the agenda of former Republican colleagues on Capitol Hill. His recent decision to change how corporate settlements are handled in federal government cases is in direct response to GOP criticism that Obama was using them to channel money to liberal groups. The Republican anger stems from how money was used in settlements with Bank of America Corp. and Citigroup Inc. over the sale of bad mortgage securities, where a portion of the multibillion-­dollar resolutions ended up funding third-party advocacy groups. More recently, Republicans questioned why $2 billion of the $14.7 billion penalty Volkswagen AG agreed to pay for cheating U.S. emissions standards went to developing electric-car technology. In June, Sessions ordered that any money collected as part of civil and criminal settlements be used only to reimburse parties to the litigation or to compensate victims—not given to third-party groups or causes.
Some of his policy changes may be more sound-bite than biting, says John Walsh, the U.S. attorney for the District of Colorado under Obama. Walsh says recent memos Sessions has sent to U.S. attorney's offices updating procedures for pursuing violent criminals and border enforcement were no different than those in place under Holder and his successor, Loretta Lynch. "They have made a big show rescinding Obama DOJ policies, but when you actually read through what they're saying, there has been a lot less change than they are claiming," he says.
Recusal hasn't entirely freed Sessions from scandal. On June 13, he spent hours before the Senate Intelligence Committee fielding questions about his meetings with Russian Ambassador Sergey Kislyak and his role in Comey's firing. On June 20, Sessions disclosed that he has retained a lawyer to advise him on Russia-related matters. Yet the one thing that could slow him down is a lack of staff. As of June 28, there were only two other Senate-confirmed Justice leaders in place. Dozens of the 93 U.S. attorney slots remain unfilled, meaning Sessions's orders aren't being answered by Trump appointees.
On June 12, Trump nominated a handful of U.S. attorneys. It could be months before any are confirmed, leaving Sessions without key troops in place. "It is important that he get his new appointees in and sworn in, people he believes will have allegiance to him," says George Stamboulidis, a former federal prosecutor. "He's got to worry whether people's hearts are going to be in this."
BOTTOM LINE -
Uninvolved in the day-to-day running of the Russia investigation, Sessions has been actively undoing big pieces of the Obama legal doctrine.
Before it's here, it's on the Bloomberg Terminal.
LEARN MORE