GOP Bill Would Slash Medicaid Over Next 20 Years, CBO Finds
By and
Analysis of health bill shows two-decade reduction in spending

Trump claimed this week that Medicaid spending would rise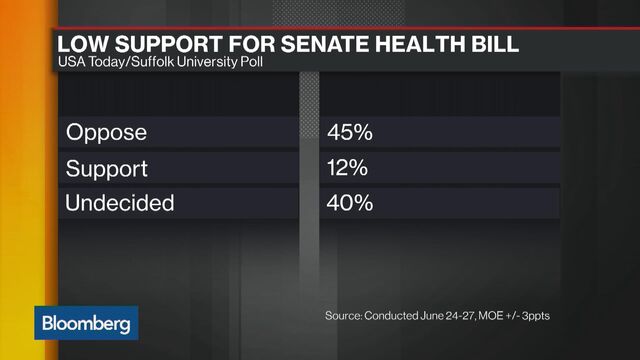 A long-term analysis of Senate Republicans' health-care legislation found that the bill would slash spending on Medicaid by about 35 percent over the next 20 years, according to the Congressional Budget Office.
The CBO estimated that the bill, called the Better Care Reconciliation Act, will reduce Medicaid spending to 1.6 percent of gross domestic product in 2036, from 2 percent of GDP this year. The nonpartisan agency attributed the cuts to the bill's cap on per-person spending and the phase-out of funding for Obamacare's expansion of the program.
"A large gap would grow between Medicaid spending under current law and under this bill," CBO said in the new analysis. "States would continue to need to arrive at more efficient methods for delivering services and to decide whether to commit more of their own resources, cut payments to health-care providers and health plans, eliminate optional services, restrict eligibility for enrollment, or adopt some combination of those approaches."
The analysis follows a 10-year look by the agency released earlier this week. The new CBO estimate doesn't include a projection of how many people would be covered under the Republican bill.
The CBO estimate shows that states would be forced to make trade-offs in how to allocate their far more limited funds. Trump and other administration officials, meanwhile, have said the bill doesn't cut spending. Trump on Wednesday tweeted a chart showing Medicaid spending under the bill going up by $69 billion in 2026, compared to 2017.
"Democrats purposely misstated Medicaid under new Senate bill - actually goes up," he wrote. Trump's tweet followed a similar post from Health and Human Services Secretary Tom Price on Tuesday.
$160 Billion
Under current law, spending would be much higher to cover more of states' costs for the shared program. With the GOP bill, CBO estimates that spending in 2026 would be $160 billion lower compared with projections under current law.
"Anyone who tells you #Trumpcare isn't cutting #Medicaid is full of it," Senator Ron Wyden, an Oregon Democrat, tweeted Thursday. The CBO analysis was done at Wyden's request.
"These cuts will leave states with unfathomable 'choices' like whether sick children get essential treatment or pregnant women get prenatal care or older Americans can receive adequate nursing home care," Wyden said in a statement.
Ninio Fetalvo, a spokesman for the White House, declined to comment Thursday.
While Senate Majority Leader Mitch McConnell said Thursday that talks are continuing between GOP lawmakers and the White House on revised legislation to replace Obamacare, Trump tweeted a possible alternative Friday morning.
Repeal, Replace
"If Republican Senators are unable to pass what they are working on now, they should immediately REPEAL, and then REPLACE at a later date!," Trump said in a Twitter post.
Such a move would likely result in far larger relative cuts to Medicaid and more people without insurance than the current GOP proposals.
Trump's input followed a letter Senator Ben Sasse, a Nebraska Republican, sent to Trump Friday urging him to endorse a repeal-first-replace-later strategy if deal isn't reached by July 10, when senators return from recess. Republican congressional leaders earlier this year rejected calls from conservative lawmakers to repeal 2010 health-care law without replacement.
Some health insurers have opposed the proposed cuts currently under consideration.
"States are going to be the ones to do the damage," Peter Marino, chief executive officer of the Neighborhood Health Plan of Rhode Island, said Thursday at an insurance conference in Washington. "The federal government is passing it to the states. They're washing their hands of it in this administration."
Before it's here, it's on the Bloomberg Terminal.
LEARN MORE