Binary Accused of Post-Resignation Harassment by Ex-Employee
By and
Co-founder Justin Caldbeck left after reports of harassment

Ann Lai says Caldbeck pressured her after she left firm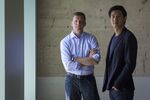 A former employee is suing Binary Capital LLC for harassing and defaming her after she resigned from the venture capital firm, following recent revelations that co-founder Justin Caldbeck made unwelcome sexual advances toward female startup founders.
Ann Lai, who was a principal at San Francisco-based Binary specializing in data and analytics until May 2016, said in a lawsuit filed in a California court that Caldbeck had texted her repeatedly after she left the firm, urging her not to disparage or divulge information about the company and threatening to ruin her career. Binary's employment agreement contains illegal and overly broad provisions regarding confidentiality and non-disparagement, according to the lawsuit.
A representative for Binary couldn't be reached for comment. Lai's attorney Chris Baker declined to comment.
Caldbeck resigned from Binary on Sunday after a report by The Information detailing his sexual advances toward women looking to raise money. His partner Jonathan Teo has told investors he's willing to step down from the firm. The imbroglio underscores the persistence of harassment and gender inequality in Silicon Valley, which came into wider light with Ellen Pao's gender discrimination suit against Kleiner Perkins Caufield & Byers in 2012.
Lai left Binary because of its "sexist and sexual environment," including inappropriate conduct with female staff at company outings, a female-specific dress code and statements about the attractiveness of Lai and other women such as startup founders, according to the lawsuit. 
Lai, who said she complained about this misconduct, felt extra pressure once she told Caldbeck she wanted to quit on May 10, 2016. "If you want to leave Binary, I'll make it happen and make sure you have no narrative," he told her, according to the complaint, filed Wednesday. He added that if she left, "she would never work again." She resigned on May 13, 2016, citing a hostile work environment.
"I'm not going to warn you again," Caldbeck wrote to Lai two days after she quit on the messaging application Confide, according to the suit. "Please stop and don't add ill will. It didn't work out. I have egg on my face for supporting you and I'm sure you are disappointed w your experience but don't put us in a situation where we need to be more aggressive."
She had trouble finding a new position. A Binary portfolio company and a VC firm that previously expressed interest in hiring her as a consultant declined to do so, she said in the suit. Another VC firm told her that the Binary situation meant hiring her "might get complicated."
 
In October 2016, Lai, who holds three degrees from Harvard University, including a Ph.D. in engineering, landed a job at a Binary portfolio company in New York, under the condition the company not tell Binary she was working there. A few months later, she accepted an employment offer from Facebook Inc. and moved back to California.
Shortly after her return, Caldbeck sent her a message that in part read "talking about us in the market with serious accusations to people we know well isn't going to help bring this to a close" and urged her to talk with him. Once the firm learned that The Information was researching an article on Binary, he sent her a message saying "I do not think talking to The Information is a good idea," following a few days later with a message that said simply "Stop."
Binary Capital also threatened to withhold Lai's carry, or share of profits from investments, as part of its push to keep her quiet, according to the lawsuit. It is unlikely that Binary, a firm created in 2014, yet had much carry to offer since its investments were so young.
Lai said she notified the California Labor and Workforce Development Agency of Binary's employment agreement, saying that it held illegal provisions that prevent employees from ever disclosing information about their working conditions.
The agreement "allows employers to abuse their power and mistreat their workforce" and "leverage their positions of power for sexual gain and for other inappropriate reasons," according to Lai's suit.
Binary's actions caused economic and emotional harm, said Lai. She is seeking civil penalties, attorney costs, economic and general damages, according to the suit. No specific amount was given.
The case is Lai v. Binary Capital Management, CIV02882, Superior Court of California, San Mateo County (San Mateo).
— With assistance by Sarah McBride
Before it's here, it's on the Bloomberg Terminal.
LEARN MORE