Egypt Raises Fuel Prices as It Pushes Painful Overhaul
By and
Gasoline prices up by as much as 55%; cooking fuel doubles

Moves were expected, but could push inflation higher this year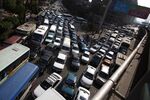 Egypt raised fuel prices by as much as 55 percent and doubled the cost of cooking gas, pushing ahead with reforms that are designed to revive the economy but are also deepening the hardship that's already rampant in the country.
The price for a liter of 80 octane gasoline and diesel rose to 3.65 pounds (20 cents) from 2.35 pounds, the cabinet said in a statement on Thursday, while 92 octane fuel increased to 5 pounds from 3.5 pounds. Butane canisters, a staple in household cooking, doubled to 30 pounds.
The measures, while expected ahead of the July 1 start of the new fiscal year, are part of a delicate balancing act the government is trying to perform. It's eager to narrow its budget deficit, forecast to be 10.5 percent of gross domestic product in the current fiscal year. Yet it is also worried that price rises could spark unrest among the country's 93 million people, about half of whom live near or below the poverty line.
Spur Inflation
Prime Minister Sherif Ismail said the government expected inflation, already around 30 percent, to accelerate by an additional four to five percentage points after this latest reduction of fuel subsidies, CBC TV reported. Oil Minister Tarek El-Molla said even after the reduction, fuel subsidies will still cost the government about 105 billion pounds annually.
Egyptians are already smarting from the November decision to float the pound. The abandonment of currency controls ended a foreign currency shortage and helped to secure a $12 billion International Monetary Fund loan, seen as crucial to boosting investor confidence. But it also weakened the pound by half against the dollar and caused inflation to soar.
Egypt's annual inflation rate eased slightly to 29.7 percent in May, while the monthly price increase held steady at 1.7 percent.
Ahead of Thursday's fuel price increases, the government raised pensions and approved a cost-of-living bonus for public employees. It also added exemptions for low-income taxpayers and raised allocations to subsidized food programs. The social spending package is expected to cost the government about 85 billion pounds in next year's budget, CBC TV cited Deputy Finance Minister Ahmed Kouchock as saying Thursday.
"The fuel price increases, together with the higher social spending already announced, will help the budget while protecting the poor," Chris Jarvis, the IMF's mission chief to Egypt, said in an email. Reducing fuel subsidies will help put the government's debt "on a declining trajectory and help free resources to support the most vulnerable groups by strengthening social protection measures."
Authorities aim to reduce the budget deficit to about 9 percent of GDP in the coming fiscal year starting July 1, and plan to raise the value-added tax rate by one percentage point to 14 percent, as well as increasing fees on mobile phones, car licenses and levies on tobacco. The government also plans to sell stakes in state-owned enterprises, including Banque Du Caire and oil company Enppi.
"The government is getting all the painful measures done" this fiscal year, said Reham El Desoki, senior economist at Dubai-based Arqaam Capital. "That's probably the government's strategy: 'Now, the worst is probably behind us."'
— With assistance by Abdel Latif Wahba
Before it's here, it's on the Bloomberg Terminal.
LEARN MORE