Xi Employs Soft Touch in Divided Hong Kong
By and
'Hong Kong has always been in my heart,' president says

Protesters kept far away as leader commemorates city's return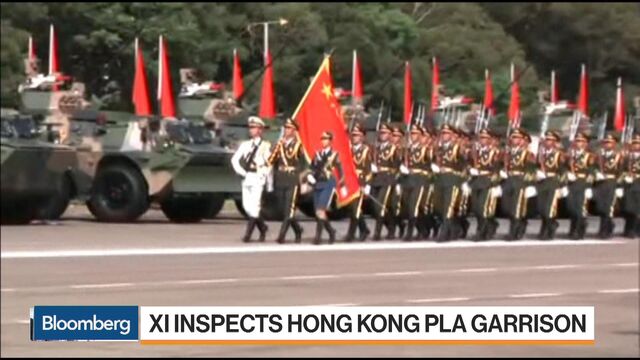 President Xi Jinping sought to reassure a divided Hong Kong of China's continued support for the former British colony, as activists called for protests to demonstrate the city's desire for greater democracy.
The president, who on Friday continued a three-day visit to mark 20 years of Chinese rule, said that Beijing considered the "one country, two systems" framework that underpins Hong Kong's autonomy a success. At brief and carefully managed public events, he offered warm words to a city that has seen anti-government protests in recent years.
"Hong Kong has always been in my heart," Xi, the first president to visit the city since 2012, told reporters moments after arriving Thursday. "The central government will support Hong Kong's development as ever."

The trip gives Xi a chance to confront head on the debates that have vexed Hong Kong since long before the handover. His early remarks met expectations that he would emphasize the benefits of closer ties, particularly for a younger generation that identifies less with China, while warning Hong Kong against challenging Beijing's authority.
At one event later on Thursday, he praised the city's outgoing chief executive, Leung Chun-ying, for "effectively cracking down" on a small, but vocal independence movement that became a political force during his term. On Friday, he toured the local People's Liberation Army garrison, where he was slated to review the troops.
"Hong Kong responses to Xi's message will be diverse," said Tim Summers, a senior consulting fellow for Chatham House, based in the city. "Some see Beijing as the source of all Hong Kong's problems and will not be swayed whatever Xi says. If anything, the center of gravity of Hong Kong politics has continued to drift away from Beijing, not towards it."
How Chinese Rule Has Changed Hong Kong: Q&A
Xi was unlikely to meet many of his critics face to face. More than one-third of Hong Kong's 29,000-member police force was being deployed around the clock to make sure protesters come nowhere near the president.

While addressing reporters at Hong Kong's airport, he didn't acknowledge a shouted question about the fate of jailed Chinese dissident Liu Xiaobo, the Nobel Peace Prize winner who authorities recently transferred to a hospital for cancer treatment.
"The system seems to move backwards from one country, two systems; to one country, one-and-a-half systems; and what we are afraid of -- the worst scenario -- one country, one system," democracy advocate Joshua Wong, 20, told Bloomberg Television. Wong, who was among two dozen demonstrators arrested Wednesday for draping a black banner over a statue commemorating the handover, said Xi's warm words belied the government's "love to suppress" the city's values.
Wong, a key leader of the 2014 Occupy protests, predicted huge crowds would gather to demonstrate outside Friday's planned gala dinner and a ceremony on Saturday at which Xi was expected to deliver a speech.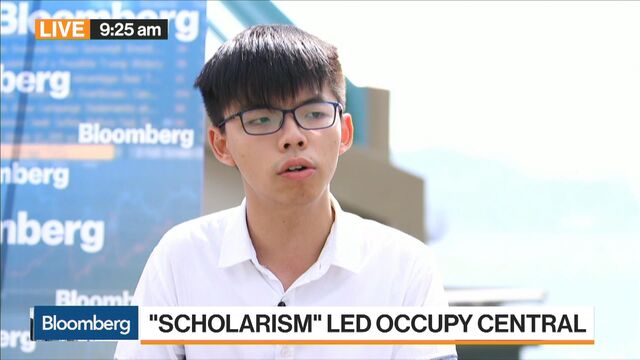 When the U.K. returned Hong Kong in 1997, Beijing agreed to give it a "high degree of autonomy" for 50 years. Recent incidents, including the abduction of local booksellers who sold works critical of the Communist Party, have stoked fears that China's authoritarian regime would steadily erode Hong Kong's free speech, independent courts and democratic institutions.
Betty Yuen, vice-chairwoman of utility CLP Power Hong Kong Ltd., told Bloomberg Television that Hong Kong couldn't afford to be complacent as China gains strength and must look to expand connections to the mainland.
"We've been embroiled in this identity as to we are after the handover," Yuen said Friday. "And so a lot of our energy has been devoted to political development, which is a necessary part of development of a city. But less energy is diverted to developing the economy and I think developing our young people."
Xi, who hasn't visited Hong Kong since a 2008 trip as vice president, will attend the swearing-in Saturday of Chief Executive-elect Carrie Lam, who won a leadership vote in March with Beijing's support.

On his first day in town, Xi held meetings with local officials, visited a cultural district and attended a banquet hosted by the unpopular Leung, who leaves office Friday after deciding not to seek a second term.
"These past five years have not been easy at all," Xi told Leung earlier. Still, the president credited Leung, who has been appointed to a leadership post on China's top political advisory body, with "safeguarding national security."
Before it's here, it's on the Bloomberg Terminal.
LEARN MORE