technology
Blue Apron May Need to Raise More Money Soon After Shrunken IPO
By
Meal-kit delivery company has cash, credit for at least 1 year

Blue Apron shares drop back to $10 offer price on first day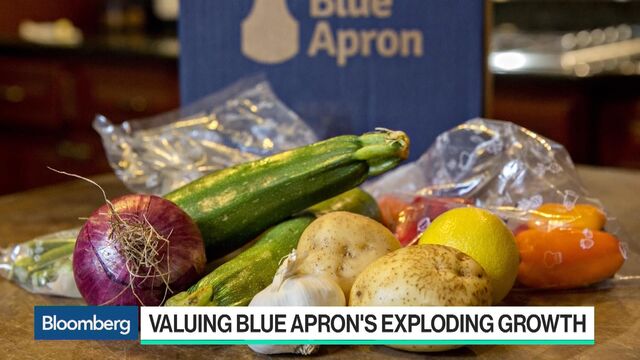 Less than 24 hours after collecting $300 million in its initial public offering, Blue Apron Holdings Inc. faces the reality of needing more cash -- and soon.
The unprofitable meal kit-delivery company, which touted its growth prospects to potential investors on its IPO roadshow, has leaned on its marketing strategy to build a customer base. That outreach eats up a fifth of the company's total spending.
Blue Apron believes its cash and borrowing capacity will be sufficient for at least a year, it said in its revised deal prospectus after lowering its IPO price range. The company added that its liquidity assumptions may prove to be incorrect, and it may increase the borrowing capacity under its revolving credit facility or raise additional funds through equity or debt financing arrangements.
"The story here is almost entirely one of expenses," said James Gellert, chief executive officer of the financial health analytics firm RapidRatings. "People should be concerned that they say they've only got 12 months. If you're IPO-ing and you've only got a 12-month runway, you're going to be appealing to momentum players and not long-term holders of your stock."
At the $10 opening price, the IPO yielded quick returns as it briefly touched $11 before closing at $10 in New York. That pegged the company's market value at $1.9 billion, less than the $2 billion valuation it earned in its private funding round in 2015. The company declined to comment Thursday.
The pressure on New York-based Blue Apron -- and the entire grocery sector -- mounted with Amazon.com Inc.'s agreement to buy Whole Foods Market Inc. for $13.7 billion. The newly public company will have a smaller war chest than it had planned as it fights the retail mammoth in the already crowded food-delivery space.
On Wednesday, Blue Apron sold 30 million shares for $10 each, raising less than two-thirds of the $510 million it had initially targeted. Hours before the pricing, the company lowered the IPO range to $10 to $11 a share, down from $15 to $17.
Bad News
The downsizing was bad news for a company that had a free cash flow deficit of $74 million in the first quarter and only $61 million of cash on hand.
While Blue Apron saw a 133 percent increase in net revenue to $795 million last year, marketing expenses increased 180 percent to $144 million, according to its deal filing.
Blue Apron's business is cost-intensive: It first sources ingredients, chops and packages them in fulfillment centers, before sending them for home delivery.
Blue Apron's $59.94 box, with recipes such as fresh basil fettuccine and marinated beef pitas, includes ingredients for three meals for two people. About 1 million customers use the product, according to the prospectus.
Fulfillment Centers
Expanding fulfillment centers, coupled with increased marketing costs, has generated net losses. In its IPO prospectus, the company warned that it may never be profitable, adding that it anticipates that "operating expenses and capital expenditures will increase substantially in the foreseeable future."
Late last year, Blue Apron put its IPO plans on hold while it focused on improving financials, people familiar with the matter said in December. The company had struggled to meet management's goals for improving margins and thought a stronger performance was needed to support the $3 billion valuation it was targeting in an IPO, the people said.
Blue Apron has relied on outside funds to fuel its growth. The company raised $195 million from investors including Fidelity Investments and Bessemer Venture Partners, according to its deal filing. The company also increased a revolving credit facility to $200 million.
Blue Apron had sought additional available credit before the initial public offering, according to people familiar with the matter. Some firms declined to lend the company money because it was seen as too risky, while others weren't willing to extend as much as was requested, said the people, who declined to be identified because the matter is private.
With its reduced IPO, Blue Apron no longer intends to pay down existing debt with the proceeds, according to its deal filing. Instead, the funds will all go toward working capital, capital expenditures and general corporate purposes.
Before it's here, it's on the Bloomberg Terminal.
LEARN MORE