Trump Backs Off Plan to Attack Comey's Conduct
By and
Move intended as a deferential signal to special counsel

President's lawyers still plan to make complaint about 'leak'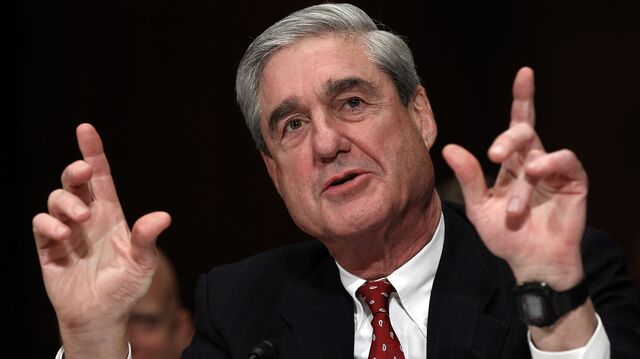 Donald Trump's lawyers will postpone filing a complaint against former FBI Director James Comey with the Justice Department, according to a person familiar with the decision -- a bid to stop antagonizing the special counsel who's investigating ties between the president's campaign and Russian officials.
Trump's lawyer, Marc Kasowitz, planned to file a complaint with the Justice Department's inspector general about Comey. The ousted FBI director told the Senate on June 8 that he had arranged for memos he wrote documenting conversations with the president to be described to news reporters. Trump was furious about what he considered an illegal "leak" by Comey.
The president's lawyers still intend to file a complaint at some point, the person familiar with the matter said. The person insisted on anonymity to discuss the president's legal strategy. The delay is a professional courtesy to the special counsel, Robert Mueller, and a signal that the White House understands he needs space to do his job, the person said.
Trump has previously criticized Mueller, repeatedly attacking him and his investigation on Twitter as a "witch hunt." His remarks have prompted speculation he would try to fire the special counsel; the White House has recently said he won't.
The postponement is intended to tamp down the confrontation Trump initially stoked with Mueller. The president also has begun to refrain from publicly criticizing the special counsel as part of his legal team's approach.
Comey's Gambit
Comey told the Senate Intelligence Committee that after Trump suggested on Twitter that he had recorded his conversations with the FBI director, Comey gave one of his memos, written after a meeting with Trump, to a friend with the express purpose of leaking it to the media after he was fired. In the memo, Comey said that Trump had asked him to drop an investigation of Michael Flynn, his former national security adviser.
Comey told the committee he hoped the revelation would result in the appointment of a special counsel. The strategy succeeded. The New York Times published a report on the memo on May 16, and Deputy Attorney General Rod Rosenstein named Mueller the special counsel for the Russia investigation the next day.
Trump tweeted after Comey's testimony: "Despite so many false statements and lies, total and complete vindication...and WOW, Comey is a leaker!"
Kasowitz said Comey's leak of the memo appeared to be "entirely retaliatory." Shortly afterward, a person close to Trump's legal team said the president's lawyers planned to file an official complaint.
Norman Eisen, President Barack Obama's former ethics czar and chairman of the advocacy group Citizens for Responsibility and Ethics in Washington, promised to file a defense of Comey. He has called the planned Trump complaint "an abuse of process" in a Twitter message and added: "beware there r serious consequences for abuse of process."
Before it's here, it's on the Bloomberg Terminal.
LEARN MORE